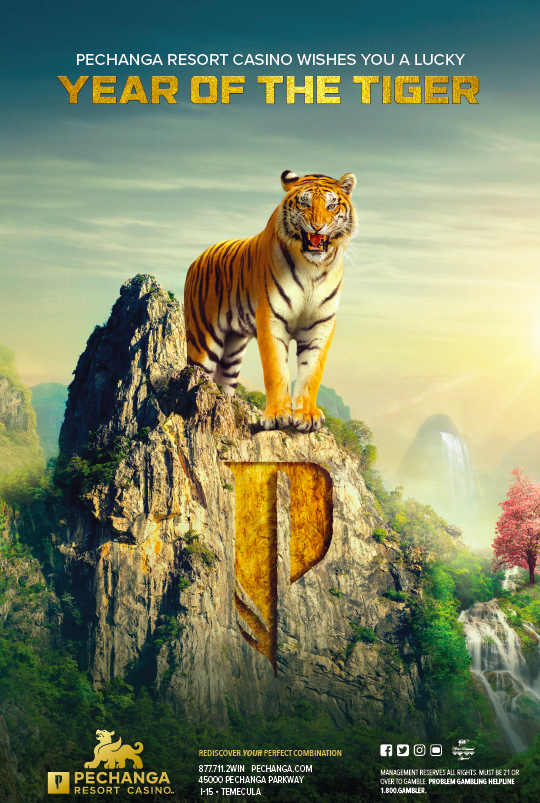 v
l
Pechanga Resort Casino wishes everyone a prosperous Year of the Tiger!
Come celebrate the Lunar New Year with our $100,000 EasyPlay and Cash Drawings
t
As 2022, the Year of the Tiger approaches, Pechanga Resort Casino welcomes everyone to join in the celebration of the festival with a series of promotions and giveaways this February.
t
t
Lunar New Year $100K EasyPlay & Cash Drawing
Pechanga Resort Casino celebrates the Lunar New Year by giving away $100K in EasyPlays and cash prizes on Friday, February 11 & 18. Club members can earn entries to the drawing by playing slots or table games from 6pm-10pm each day for a chance to win big prizes. 60 winners will be drawn to receive $250, $500, or $750 in EasyPlay. 1 lucky winner will be drawn at 10pm for the ultimate cash prize of $25,000. Come discover the thrill of possibly of winning multiple times!
t
$5K Lucky Red Envelope Giveaway
Pechanga lets players become even luckier with the "Lucky Red Envelope" promotion this February. Club members just simply visit the Promotional Area every Tuesday in February from 12pm-10pm for a chance to win up to $5,000 in EasyPlay!
t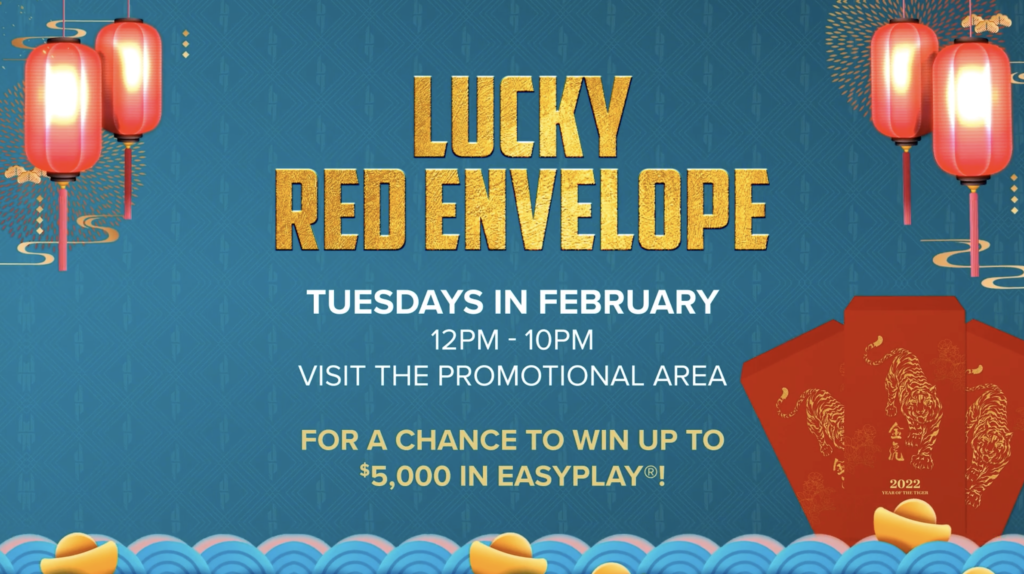 t
Lunar New Year Luck Lion Dance
In celebration of the Lunar New Year, Pechanga Resort Casino will arrange a splendid Lucky Lion Dancer Performance on February 5th. Starting at 3 pm, the "Lion Dancer Team", which symbolizes auspiciousness and good luck, will start at the north entrance, and cruise around the casino floors. Everyone will be able to get Red Packets to give to the Lion Dancers to pray for a Good New Year.
t
Exclusive Dining and Drinks Specials
Pechanga Resort Casino also welcome guests to reserve tables for Family Dinner or Business Lunch to enjoy exclusive "Lucky" Lunar New Year Dining and Drink Specials that meticulously prepare by the chefs of Bamboo, Blazing Noodles and Umi Sushi & Oyster Bar.
b
Pechanga Resort Casino
(877) 711-2946
45000 Pechanga Pkwy, Temecula, CA 92592
Pechanga.com
b