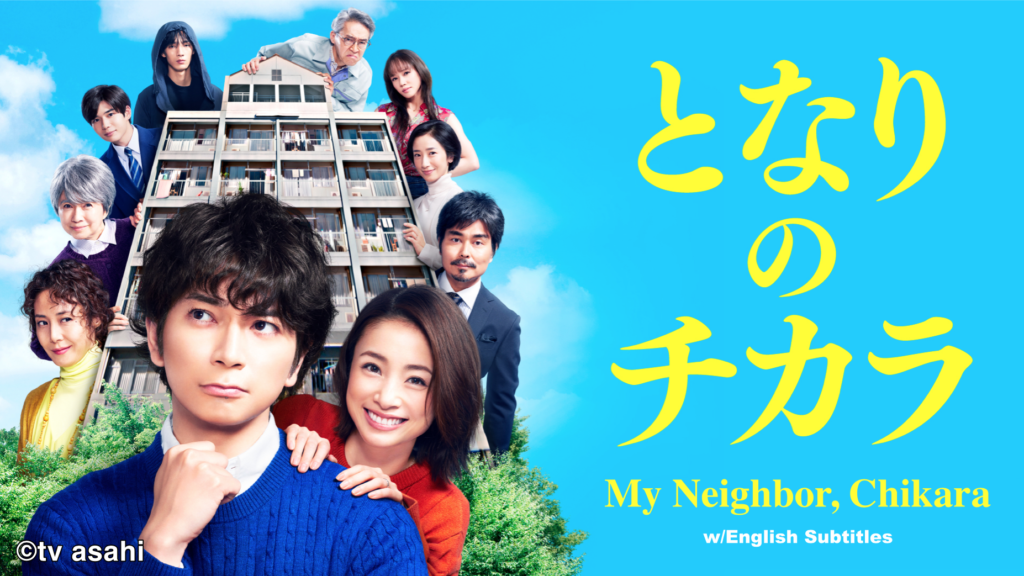 ;
Japan Hollywood Network, which airs Japanese-language programs throughout Los Angeles and Orange County, will broadcast the Japanese TV drama "My Neighbor, Chikara" (English subtitled) on channel 44.1 (KXLA) starting 7 PM on every Sunday from February 13, 2022. Additionally, after airing each episode willbe available for free streaming nationwide on Japan Hollywood Network's website.
g

Chikara has more care and heart than most people, but no matter what he does it's never fully realized and half-baked. Chikara's motivation for everything is his wish to "save people" and "bring peace to everyone around me", but he always ends up being part of other people's problems only partially.
Once he finds out it's an issue not easily solved, he starts worrying and retreating halfway. However, he communicates with his fellow residents of the apartment he lives in and forges a strong
connection with everyone as a community…
b

Jun Matsumoto of "Arashi" plays this "Halfway Man" and the script is by Kazuhiko Yukawa, a popular
script writer that took Japan by storm with "I am Mita, Your Housekeeper". Bored, yet busy. Lonely, but likes the solitude. Slipping into the hearts of the lonely, modern-day people and giving them the courage to connect with other again. Enjoy a new kind of entertainment with this fresh, unique drama!
b

Cast: Jun Matsumoto, Aya Ueto, Yukiyoshi Ozawa, Kurara Emi, Sonim, Jun Fubuki, Nanako Matsushima,
and others
For more detail, visit: www.jhollywoodnet.com
For more info: [email protected]
b
b
b
b