.
January 10th (Mon), 2022
成人の日 / Seijin no hi
Coming-of-Age Day
.d
The holiday was established in 1948 to congratulate 20-year-old men and women and encourage them to realize that they are adults.
On this holiday, Seijin Shiki (Coming of Age Ceremony) is held at each cities and participants traditionally wear kimono.
.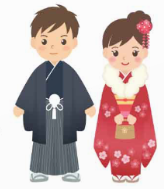 .
.