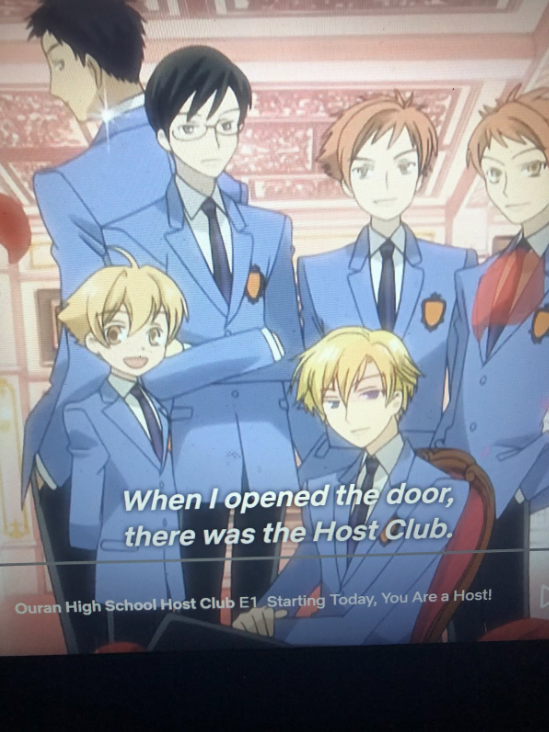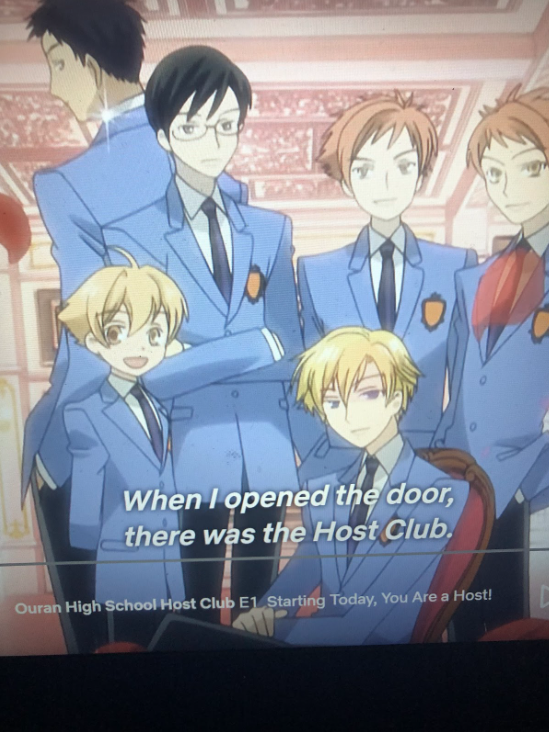 Ouran High School Host Club follows the life of Haruhi Fujioka as she navigates being a part of the host club at Ouran Academy, a place for rich kids to attend school. The host club is a school club whose members include popular boys who spend their time entertaining girls from their school through conversation and snacks. Haruhi is a quiet and studious student who attends Ouran Academy on scholarship, and comes from a vastly different background as the rest of her peers. Haruhi ends up in the host club because she accidentally knocks over and breaks a vase. In order to pay off her debt, Haruhi joins the host club.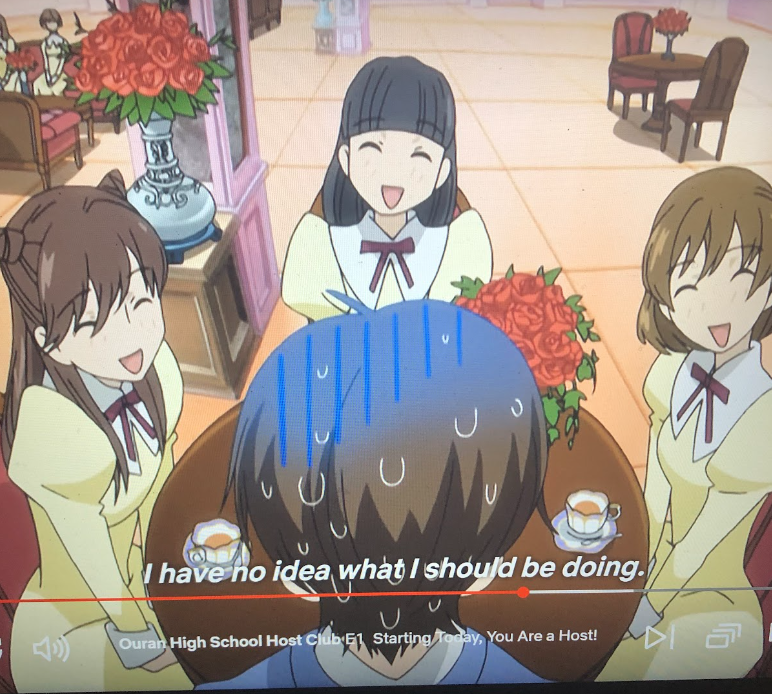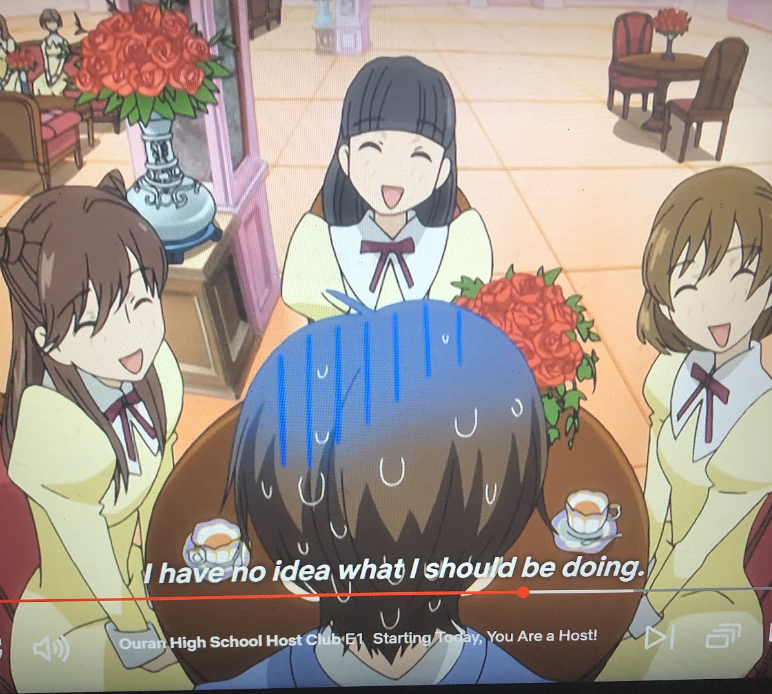 Ouran is a comedy. Netflix even has "goofy" as a description for the show. Most of the episodes follow a slice of life like pattern in which the host club hangs out or spends time with guests. The show is funny, and I found myself laughing quite often throughout the series. Initially, due to Haruhi's short hair, quiet nature, and her not wearing the girl school uniform, (she was in street clothes before she purchased a uniform), the boys of the club do not know she is a girl. Haruhi does not bring up as it doesn't occur to her that such a miscommunication could happen. One of the members of the club, Tamaki Suoh does not realize for a whole day as he is a bit of an airhead at times. Tamaki often gets the club involved in crazy and random things throughout the series.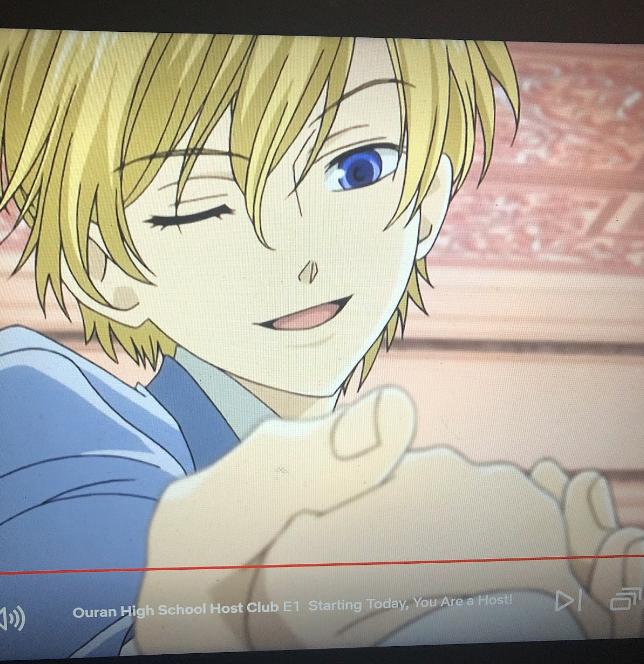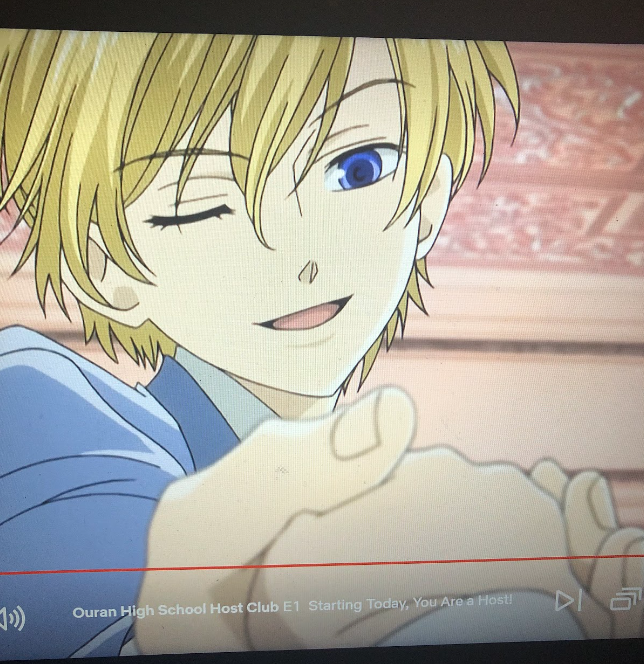 However, just because Ouran is overall a comedy, it does not mean that everything is happy and full of laughter. As the anime goes on, Haruhi begins to interact more with each of the members of the club, and gets to know them better. While Haruhi does not discriminate against the club members for being from a richer background, it takes time for her to understand her fellow club members. She begins to learn about each of their own individual backgrounds and the different troubles that they have encountered. The viewer can see that despite having different problems, Haruhi and her clubmates each have their own issues that cause them to act in certain ways. Haruhi is empathetic and always does her best to give help. 
Ouran is one of the first anime that I watched, and it is a good segway into anime. It contains a lot of common qualities of anime such as crossdressing, sparkly imagery mixed in with regular animation, beach/pool episode, and absent parents. There are other "milder" anime that can act as a segway, but Ouran will cover everything that you didn't know would show up in anime. It is an older anime, being released in 2006 so the animation style will look different than many more recent ones. But that does not take away from how good it is. Ouran is available on netflix and is 1 season of 26 episodes. It is based on a manga, however the anime does not cover all of the contacts of the manga as there is quite a bit of unanimated content. Ouran is also a looser adaptation as opposed to some anime as some parts are skipped or some characters are not covered as in depth as in the anime. So, if you like the anime, you should definitely check out the manga too.
If you're looking for some laughs, I recommend giving Ouran a try.
.
Photos by author
Instagram:@timxthyjng
Writer: Timothy Jung
(7/28/2022)
,
.
.
.
.