Special offer! ONLY 8/8 (Mon) – 8/10(Wed)!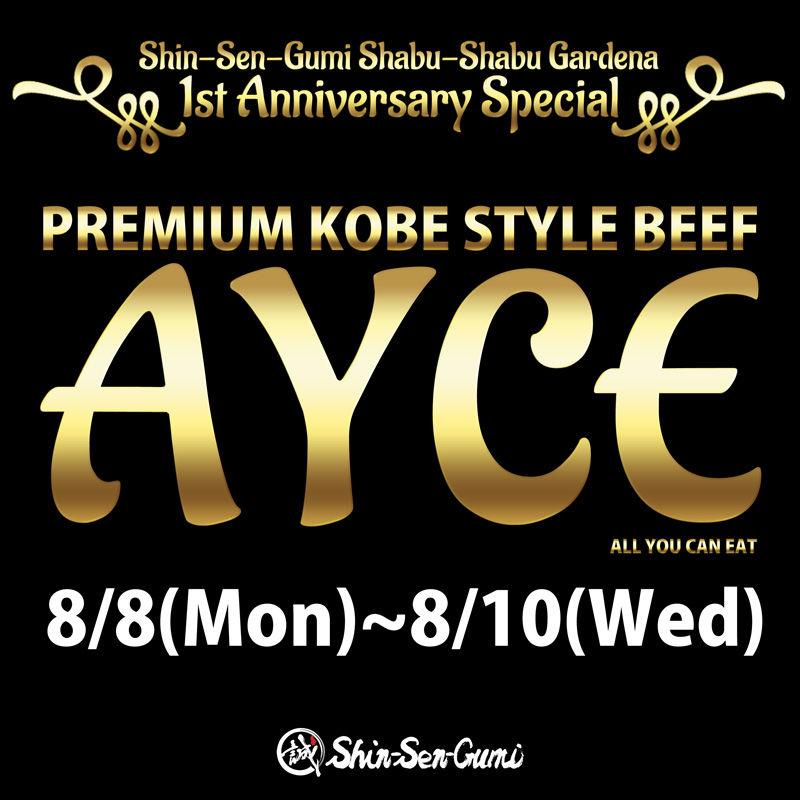 Shin-Sen-Gumi Shabu-Shabu Gardena is celebrating their first anniversary with an all-you-can-eat event! Shabu-Shabu is a Japanese hot pot consisting of sliced meat and vegetables simmered in a steaming broth. From August 8th, 9th and 10th, you can get all-you-can-eat Premium Kobe Style Beef!
[All You Can Eat💰]
Adult 90min $32.99 per person
Kids Under 4ft $16.50 / Kids Under 3ft FREE
Senior (65+) $26.50
[SOUP]
MISO / SUKIYAKI / TONKOTSU / SPICY UMAMI / DASHI / KONBU / SHOYU DASHI
[MEAT]
ANGUS BEEF / BEEF BELLY / PORK SHOULDER / PORK BELLY / PREMIUM KOBE STYLE BEEF (Regular Price +$10.00 per 6oz plate)
OTHER SEAFOOD
VEGETABLES
CURRY RICE
ADD-ONS TOPPINGS and more!
しゃぶしゃぶダイニング ガーデナ店
Shin-Sen-Gumi Shabu-Shabu Dining – Gardena
⏰ DINNER ONLY 5:00pm~9:30pm (last call) Mon – Sun
📍1695 W. Artesia Blvd. Gardena, CA 90248
📞310-649-2904
https://shinsengumigroup.com/restaurants/shin-sen-gumi-shabu-shabu-dining-gardena/