Haruki Murakami is a world-renowned Japanese novelist who has created many masterpieces including "Norwegian Wood" and the "1Q84" series. He attended Waseda University, which is one of Japan's most famous and historic universities, and has produced many of the best writers in Japan.
There are many quaint cafes, diners, coffee shops, and ramen shops around the university, and I would like to introduce some of my favorites from them. These are places these writers must have spent days of brainstorming and writing in, where these masterpieces were created.
The first and my favorite is "café GOTO." It is a long-established coffee shop located on the second floor near the Toyama exit of Waseda station and has been in business for 30 years.
When you open the dignified door, you can smell the aroma of freshly baked cakes. The slightly dark lighting and the sweet aroma relax you as you take a seat. My order is always the Ceylon-style milk tea and the raspberry crumble cheesecake. This has been my favorite ever since I was impressed the first time I ordered it.
They ask you if you want cream on top of the thick, properly brewed milk tea, and after answering yes, I like to add a little more gum syrup. The cheesecake is firm, but the sweetness of the smooth dough, the sweet and sour taste of the raspberries, and the aroma of the crumble will make you fall in love with it once you try it.
It is a shop where you can stay for a long time, with people enjoying the time passing by slowly, such as a man and a woman chatting together, or a group of people who must be professors.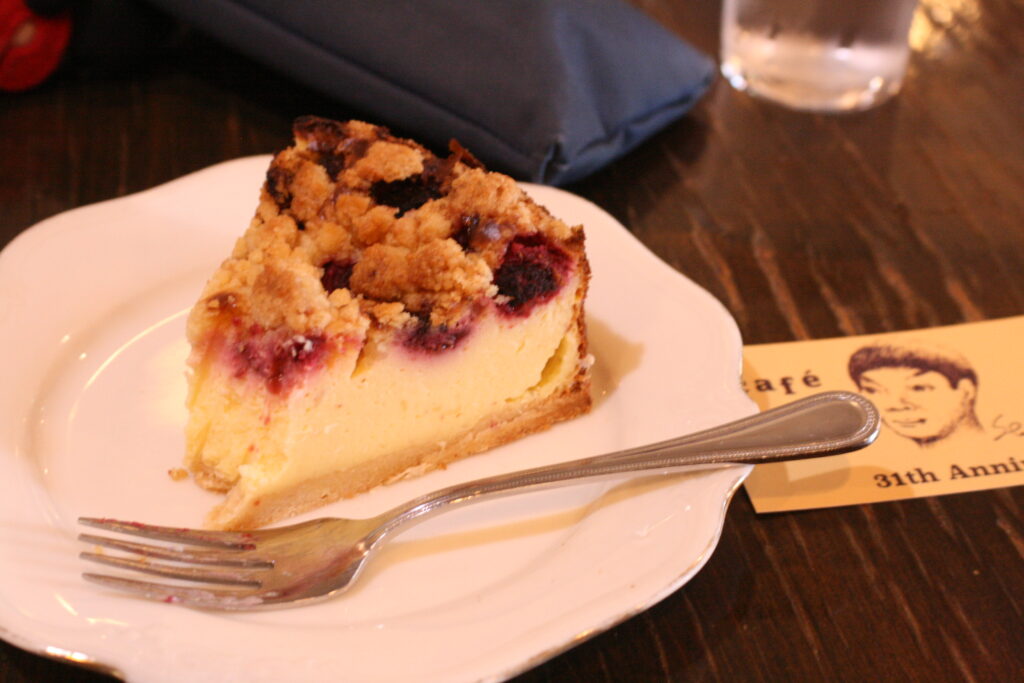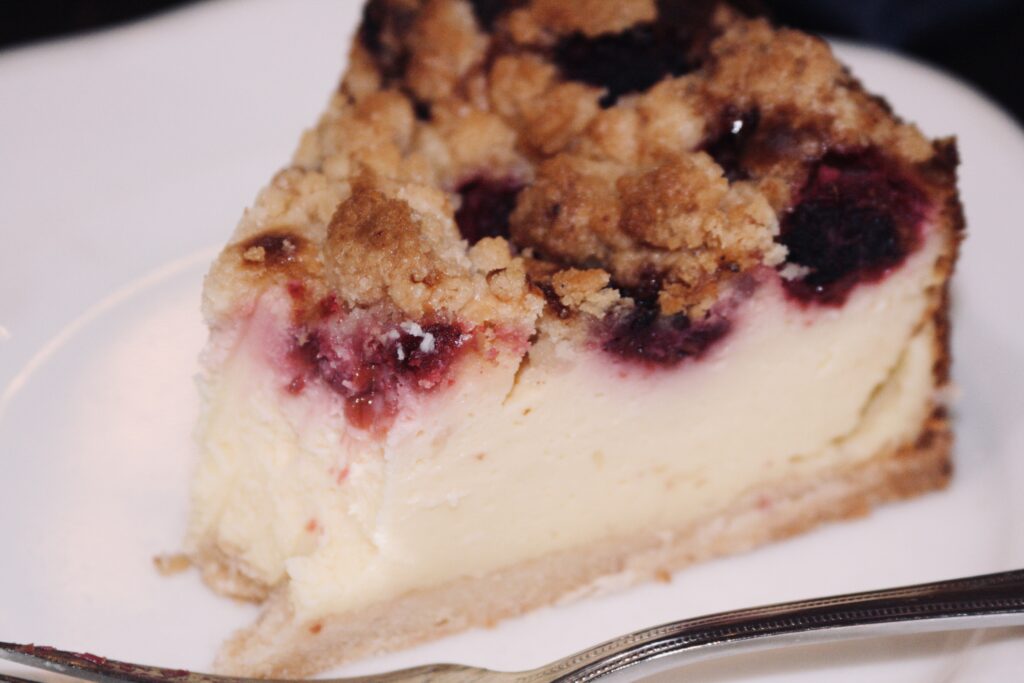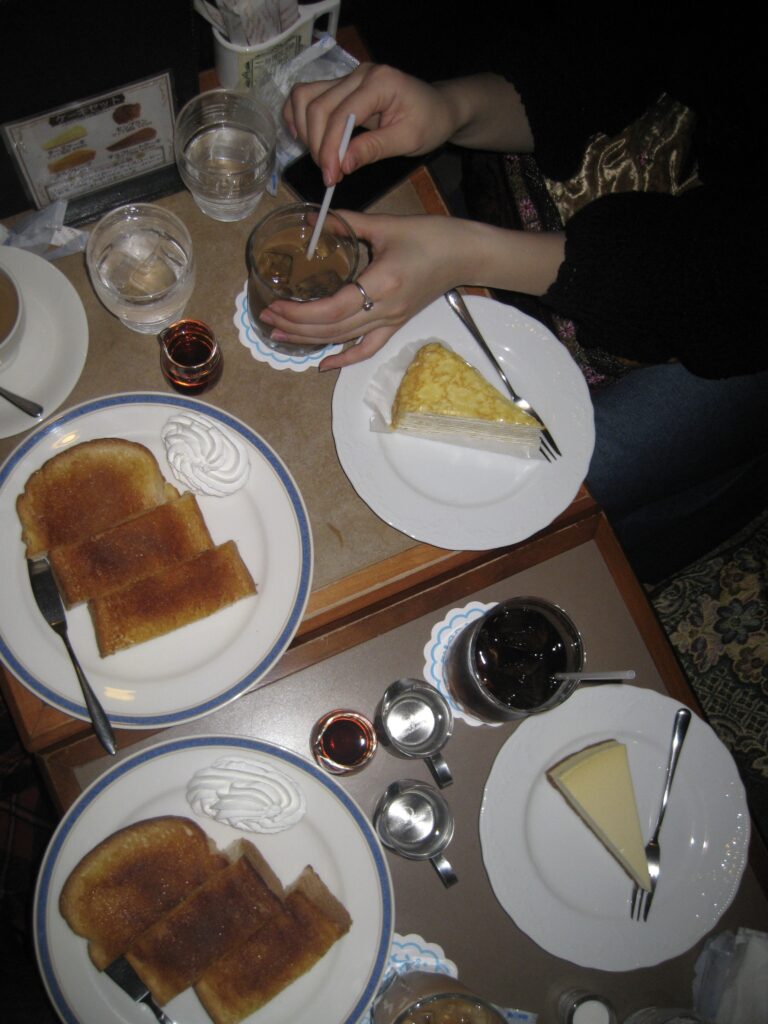 The second shop is "Coffee 10," also near Waseda Station, where the aroma of cigarettes and coffee mingle in the brownish interior illuminated by soft lights. On the wall hangs a poster of "Easy Rider," and although I was born in the Heisei Era, I think this is what so-called "Showa-era coffee shops" must have been like. (Japan has a system called "Gengou", and the title of the year changes with each change of Emperor. Currently, it is the Reiwa era after the Heisei era, and before that, it was the Showa era.) This retro environment is the main reason why I like this shop so much. The croque-monsieur and hotdogs are delicious, but I order the cinnamon toast when I want something sweet. For some reason, the thick, cinnamon-filled toast that soaks up the sugar as you bite into it is better than the toast I make at home, and it makes me feel happy.
Waseda students have long had a saying called "Baba-walking," where when students have time, they sometimes walk to Takadanobaba, a large station about 20 minutes from the school, to walk around the restaurant district.
A one-minute walk from this Takadanobaba station, the next cafe I want to introduce is, "Roman," which is another old-fashioned coffee shop with more lunch menu than Coffee 10. When one thinks of a "meal menu in a coffee shop" in Japan, the first thing that comes to mind is surely "Neapolitan." Neapolitan is a pasta dish that originated in Japan, made by frying boiled spaghetti with onions, green peppers, and bacon, and seasoned with tomato ketchup. Along with "omu-rice" and "ebifurai," it is a standard "Western-style dish" that originated in Japan. The most recommended dish available in Roman is also Neapolitan.
The slightly thick, firm noodles with a sweet sauce perfectly go well with the iced coffee. Customers include students like myself, locals, businessmen, and many others.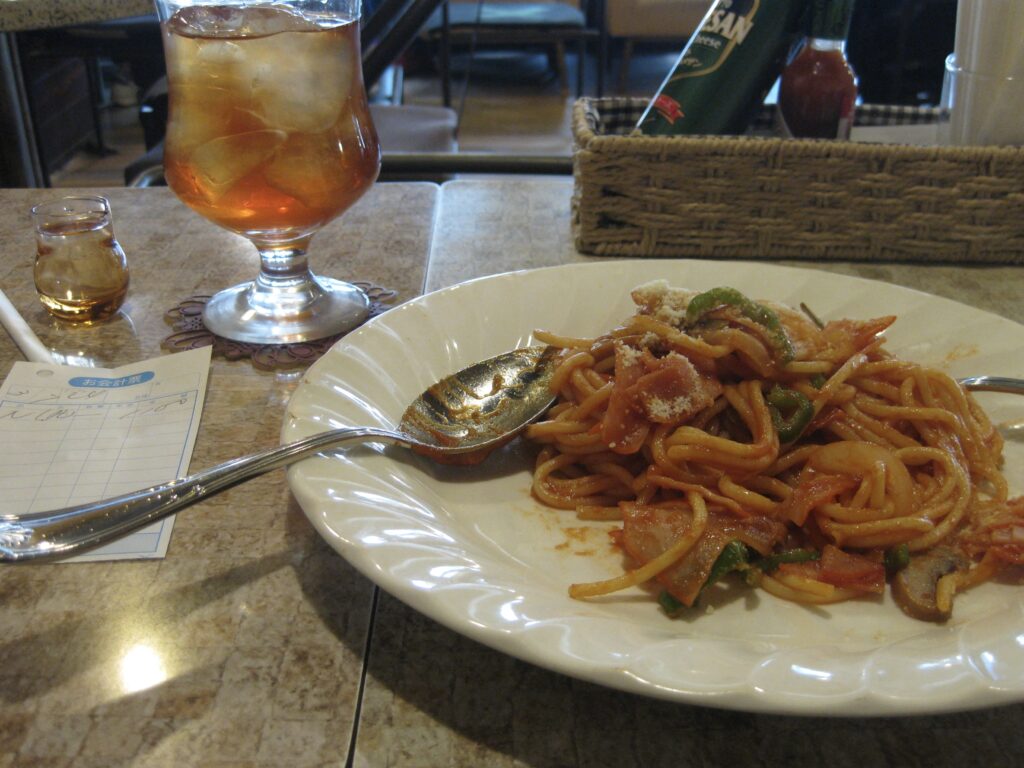 In my spare time, after school, or before my part-time job, I sometimes need some time alone, and if there is a delicious cake and coffee, or toast and tea, I can easily be happy. What I do there is edit the fashion snaps I take in my club, write essays, and read books. I am sure even Murakami, who got married while still a student and started writing novels, also had a time like this. Of course, having dinner with friends is great, but I also love to spend a relaxing time at a restaurant where I can go alone without hesitation.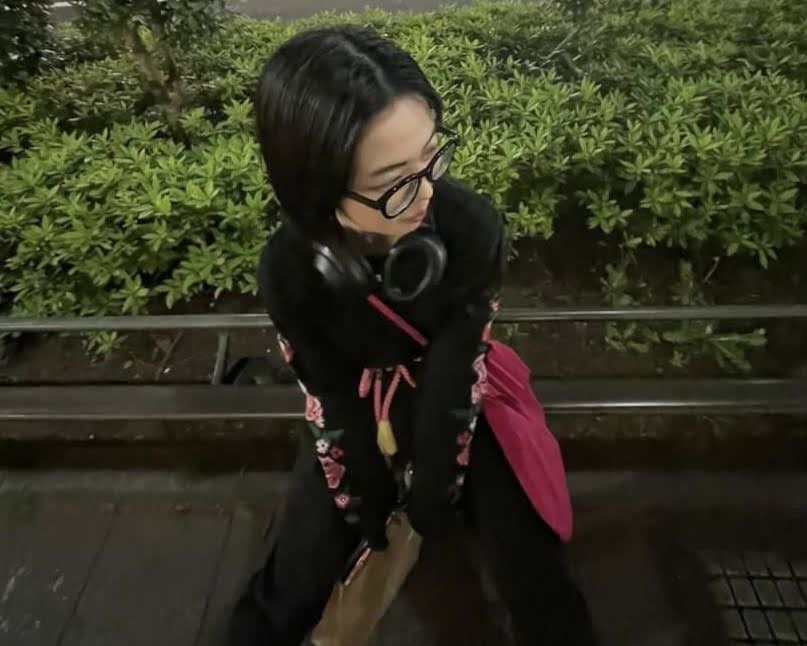 Sawa:Writer living in Tokyo, Japan / Waseda University student