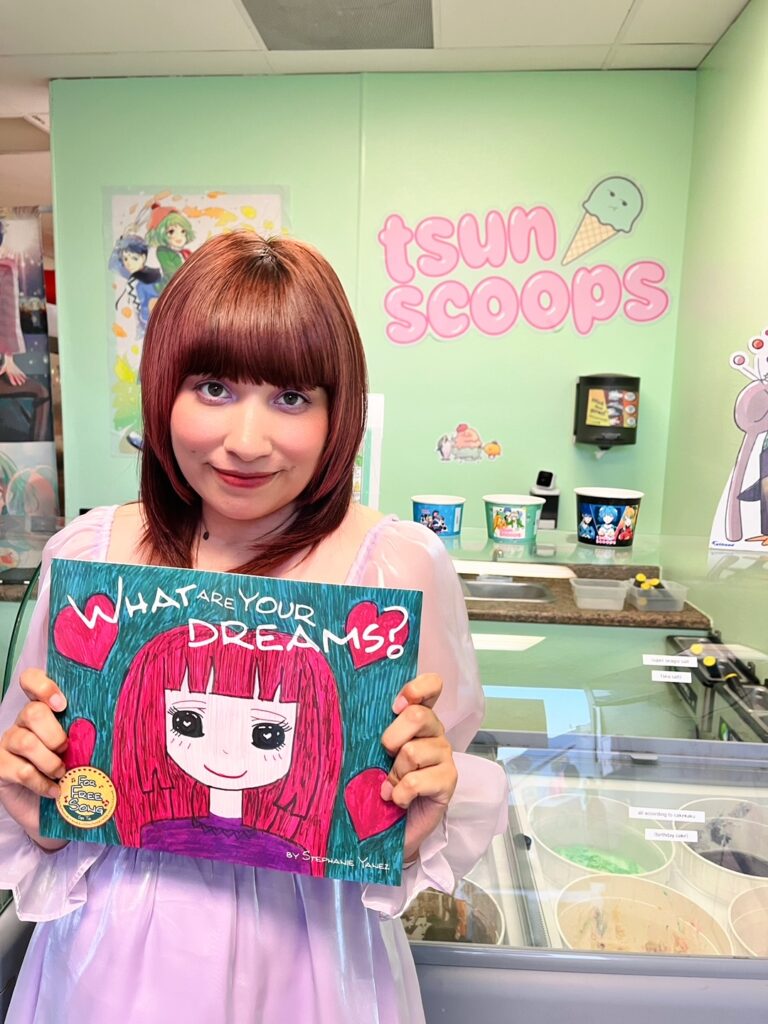 My first ever book WHAT ARE YOUR DREAMS was officially published and released on May 15th through Japanese company Amesian Books/ WANANN,Inc. While available for pre-order, it reached the charts on Amazon Hot New Releases! I wrote and illustrated the book. I also created a free song that goes along with the book. Find out where you can get them at: http://stephanieyanez.com/whatareyourdreams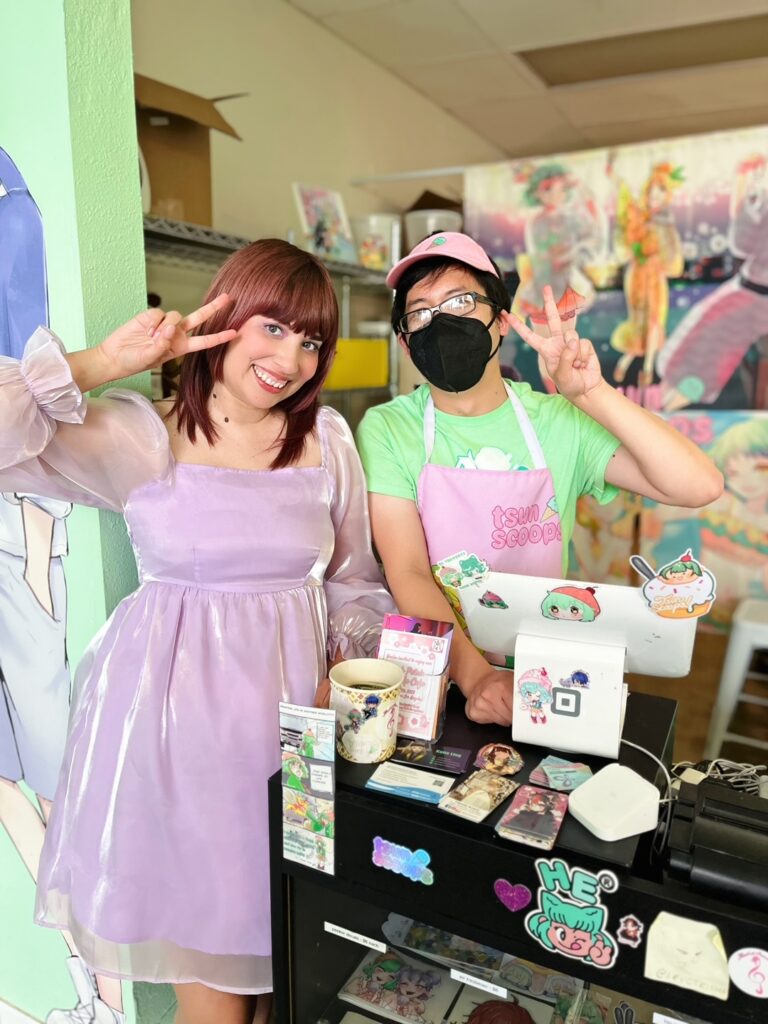 I was very honored to collaborate with Asian owned Anime ice cream shop tsun scoops for my first ever book WHAT ARE YOUR DREAMS release party! Huy Pham is the owner of the shop, which was originally going to be an ice cream truck, but decided to make it a brick and mortar shop in Garden Grove. tsun scoops has delicious ice cream with funny punny names for each flavor inspired by Anime. They also have many options for vegans as well with a whole non-dairy section.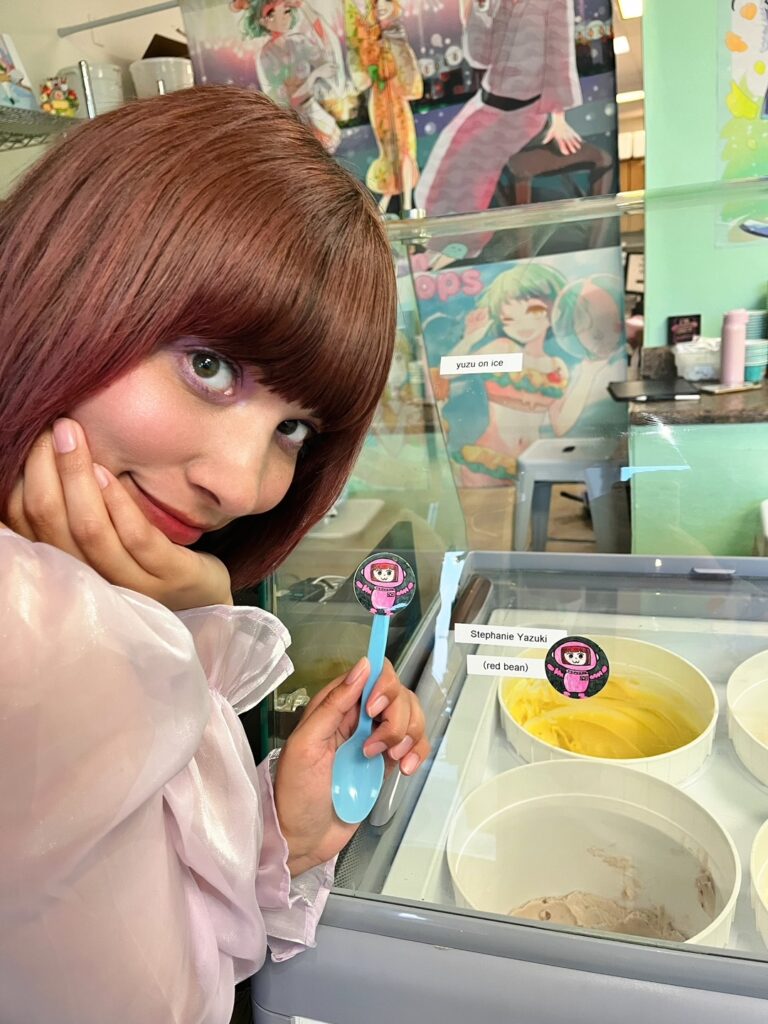 After discussing with Huy that I would love to have my own vegan ice cream flavor at my event, I chose to go with one of my favorite flavors red bean (Azuki). Then he came up with what the ice cream would be called: Stephanie Yazuki! He always comes up with the best names! I went over to tsun scoops the weekend before my event to prepare and do some experimenting with the flavor. I created the first batch with help from Huy and was so happy with the finished product.
Watch me make the first batch here: https://www.instagram.com/reel/CsjdVkvp4ka/?igshid=MzRlODBiNWFlZA==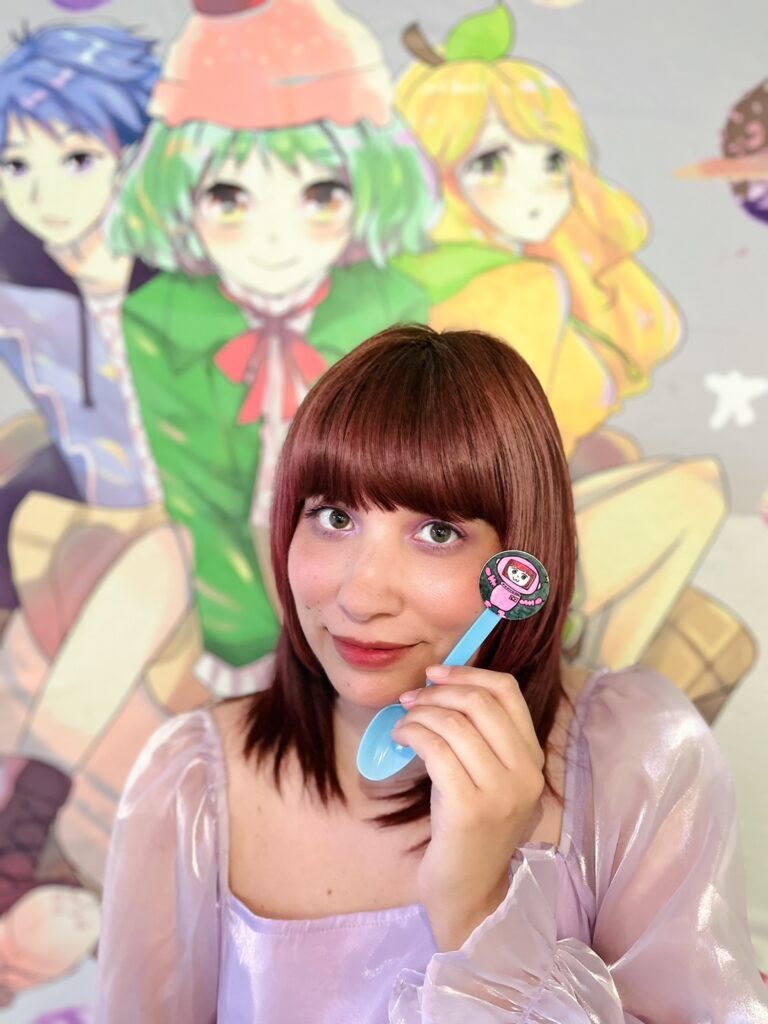 tsun scoops also made special limited edition spoons with my character Ai dressed in her pink astronaut suit. What was super cool about these spoons is that you can easily take off Ai and use her as a sticker that you can put on many places like your phone, laptop, notebook, etc.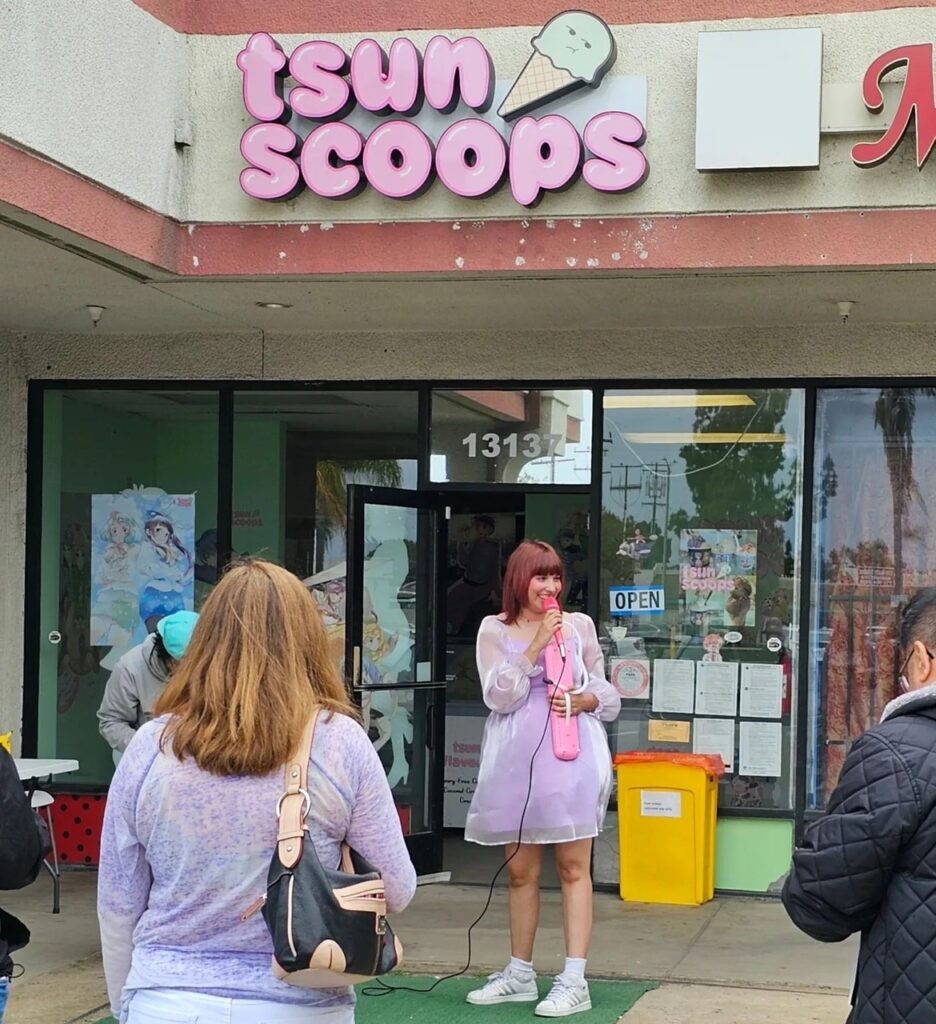 Photo by Ryujin Taiko
At the party I also performed my song made specially for the book: https://open.spotify.com/track/1t8PWDWe9D5upmHQSF61ws?si=VPE-aaSOTL6FV88rLuuPBw
I created the song with the instruments Melodica and the Omnichord. So I brought my Melodica out to the event to play before singing my song. My first time playing the Melodica in public. I love the sound of the Melodica and Omnichord and feel they are both dreamy like my book.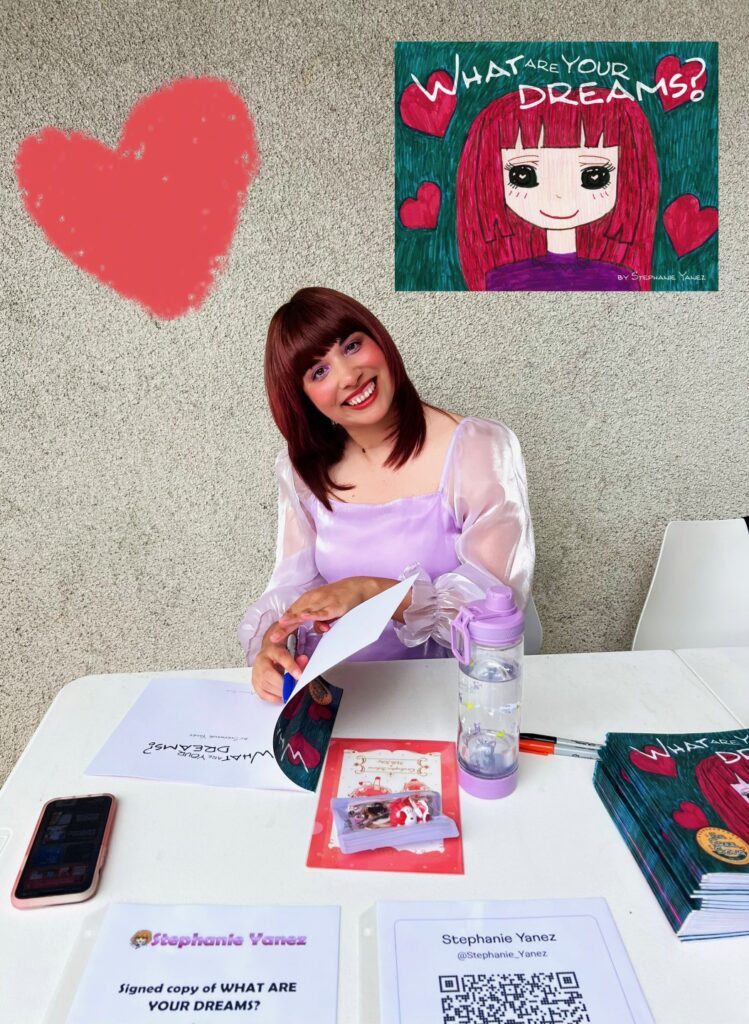 I was over the moon to celebrate with everyone at my first ever book release party. It was really fun to personalize and sign each book while talking with each of you. I'm happy to announce that I will be performing at Taste of Japan at the Garden Walk in Anaheim on June 16th and 17th. I will have my own kiosk where you will be able to purchase my book. I will also be signing books at my kiosk throughout the festival. I will be performing both days as well as be one of their official MCs.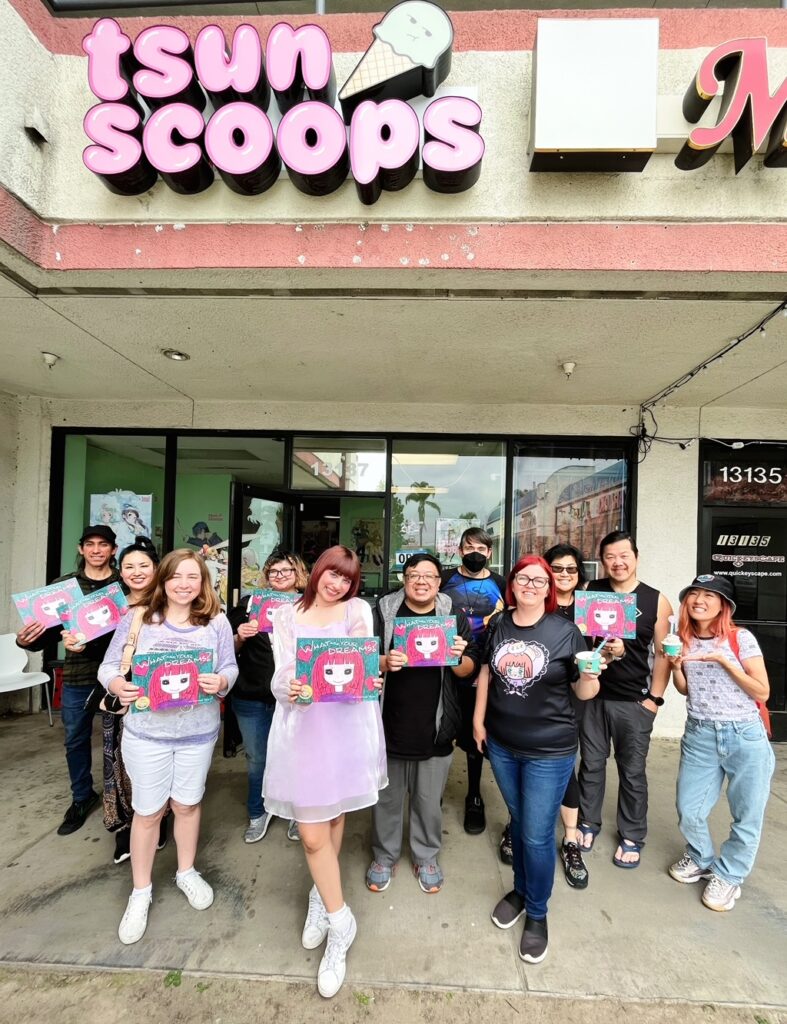 I really want to say thank you to everyone that came throughout the event to support me! Keep exploring and finding what your dreams are in life no matter how big or small.
Find out where to get my book and listen to my new song here: http://stephanieyanez.com/whatareyourdreams
You can also find more info below on Amesian Books.
English page
https://www.amesianbooks.com/en/index.html
https://www.amesianbooks.com/en/books/what-are-your-dreams.html
Japanese page
https://www.amesianbooks.com/jp/index.html
https://www.amesianbooks.com/jp/books/what-are-your-dreams.html
『JAPANESE POP CULTURE NEWS THAT YOU MUST KNOW!!!』
Writer: Stephanie Yanez
Instagram @stephachu
Website https://direct.me/stephachu
(5/31/2023)
,
.
.
.
.