ATT.JAPAN × JapanUp! magazine
June 2021 (vol. 164)
.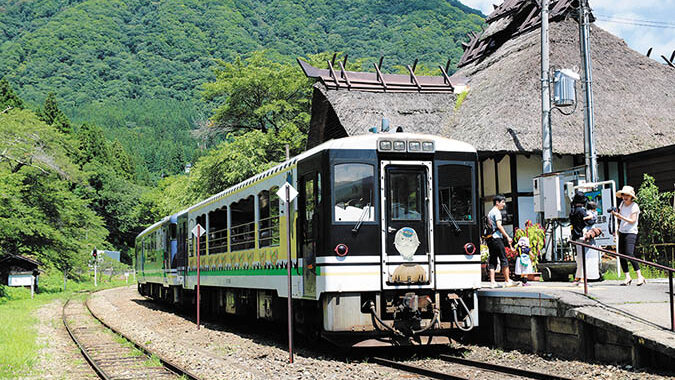 In Japan, railway lines with a small passenger capacity are called "local railways." There are many popular railways serving as sightseeing trains running through scenic areas all over Japan. Here are some of the recommended local railways in the Tohoku region. The weather in Tohoku is very pleasant from spring to summer. You will encounter wonderful views of the ocean and mountains.
.
1. Akita Nairiku Jukan Railway
.
Running through Akita Prefecture north to south from Kakunodate Station, one of the Akita Shinkansen stations, to Takanosu Station, this line is also commonly called "Akita Nairiku Line." Along the line, you can see a typical landscape of satoyama, buffer zones between wilderness and human habitation, in Japan, with mountains, fields, and villages.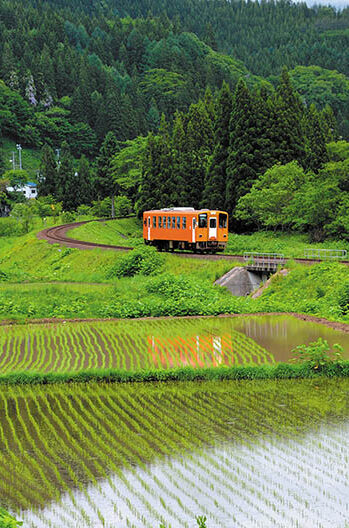 .
STOP-OFF SPOT: Mt. Moriyoshi
It takes about 20 minutes by taxi from Aniai Station to get to this mountain. As one of Japan's "100 Famous Mountains with Flowers," it offers great seasonal views, including an early-summer view with alpine plants, an autumn view with colored leaves, and a winter view with trees beautifully covered with ice. You can take a gondola to easily get to the top.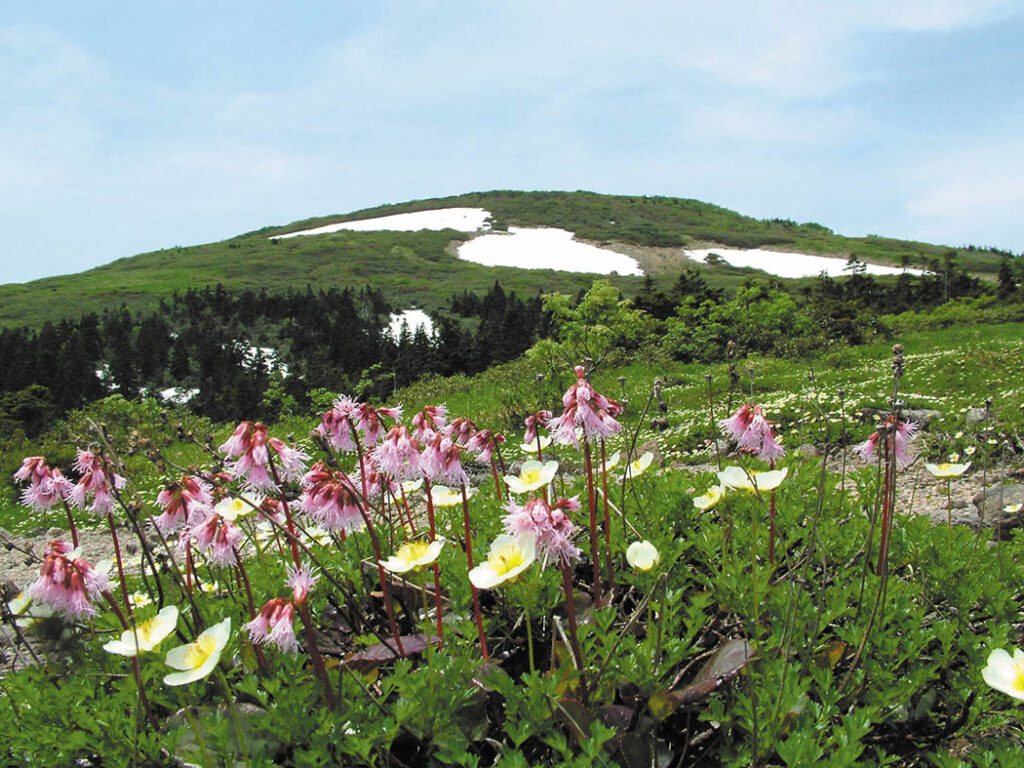 .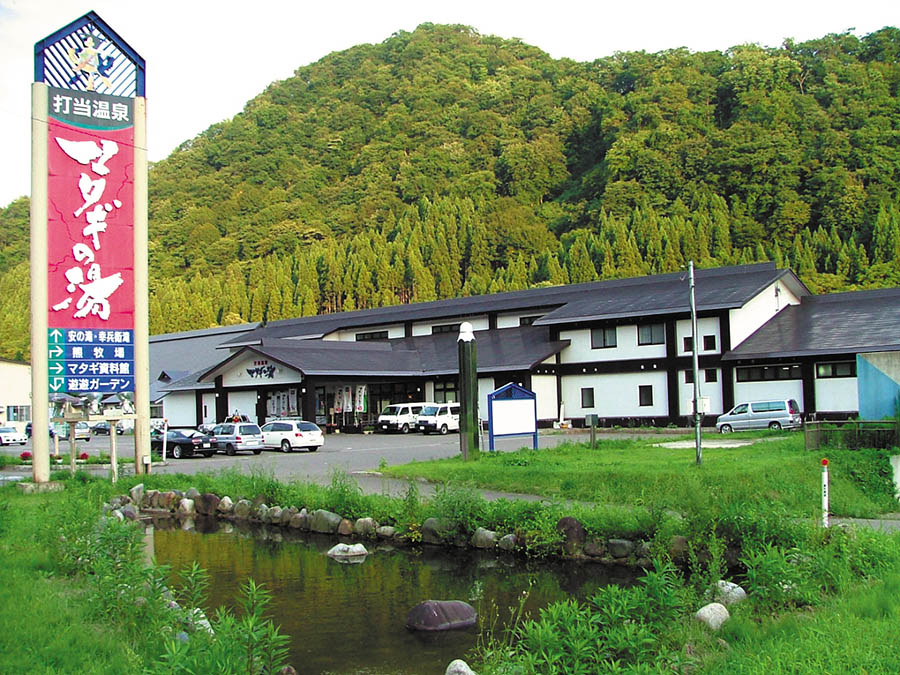 STOP-OFF SPOT: Hidden Inn "Uttou Onsen Matagi no Yu"
This area is said to be the birthplace of "matagi" traditional hunters. The Matagi Museum next to the facility offers an opportunity to learn about the culture of matagi and the surrounding nature, including matagi's costumes, hunting, and mountain ecosystems through the audio guide (Japanese, English, Chinese). Sake brewed in this inn, which is called doburoku, a rare unrefined sake difficult to buy, also can be enjoyed. With a reservation, a pick-up service from Animatagi Station is available.
.
RECOMMENDED POINT: Rice Paddy Art
From July to early September, you can see five spots of "rice paddy art" along the railway from the train window. Local people collaborate and create the works of art using various kinds of rice. The designs change every year, sometimes including popular characters.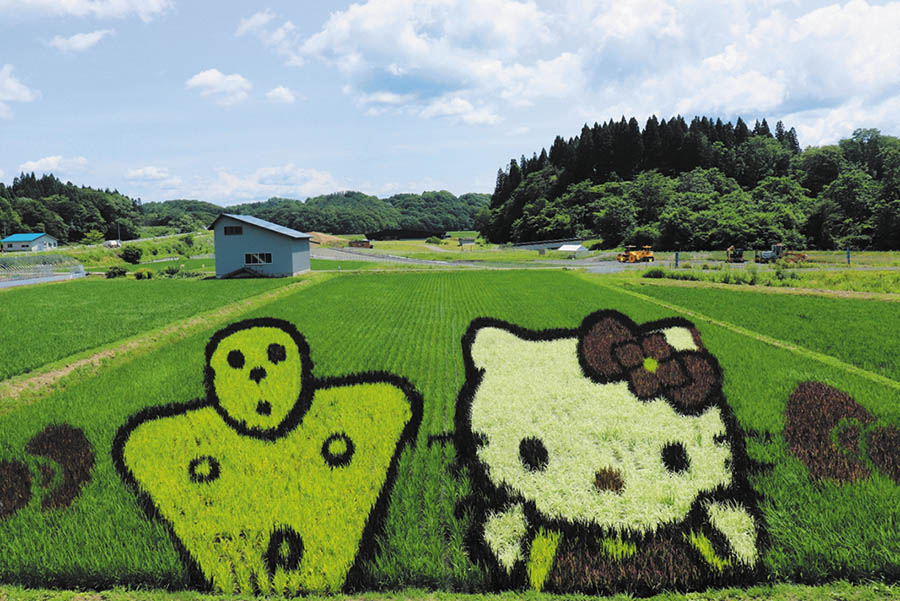 .
2. Aoimori Railway Line
.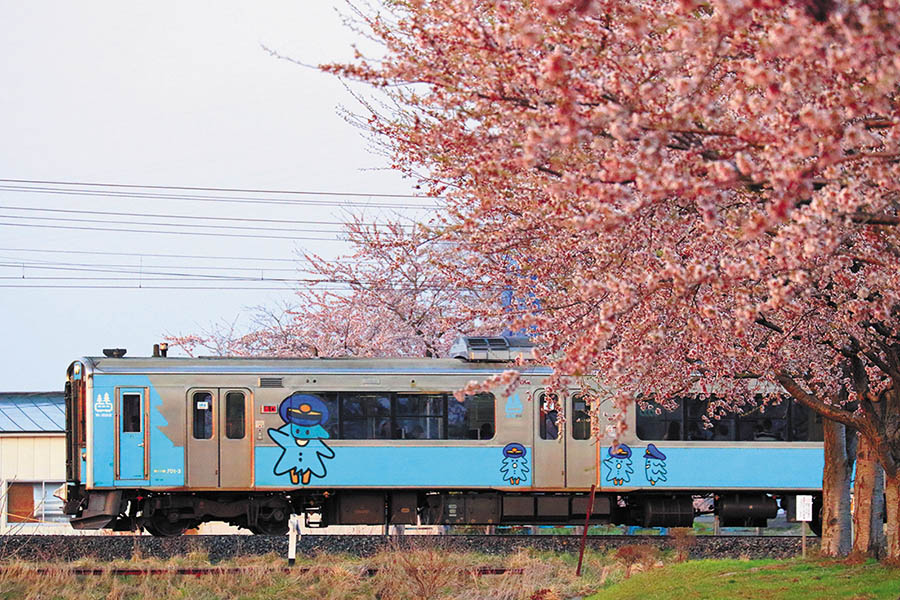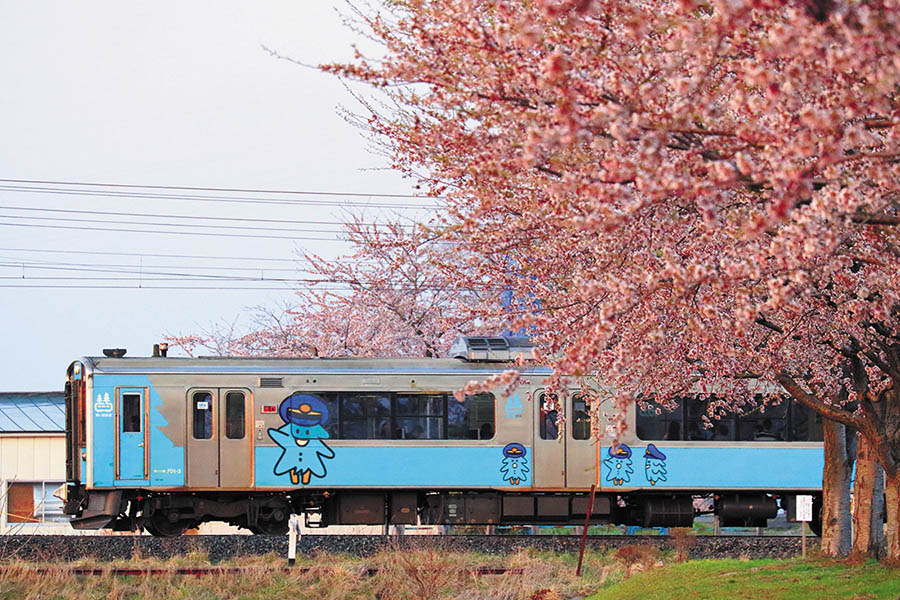 This line connects a distance of 121.9km from Aomori Station to Metoki Station near the border between Aomori and Iwate prefectures. Through the train window, you can enjoy beautiful idyllic scenery of Aomori while seeing forests, ocean, and towns. The bright light blue body with its image character "Molly," visible from a distance, is a trademark of the train.
.
STOP-OFF SPOT: Asamushi Aquarium
A 10-minute walk from Asamushi-Onsen Station, this is the northernmost aquarium on the main island facing Mutsu Bay. There are about 300 kinds of water creatures, including aquatic life native to the prefecture. A big tunnel tank, which makes you feel like you are walking in the ocean, and a dynamic performance by dolphins are especially popular.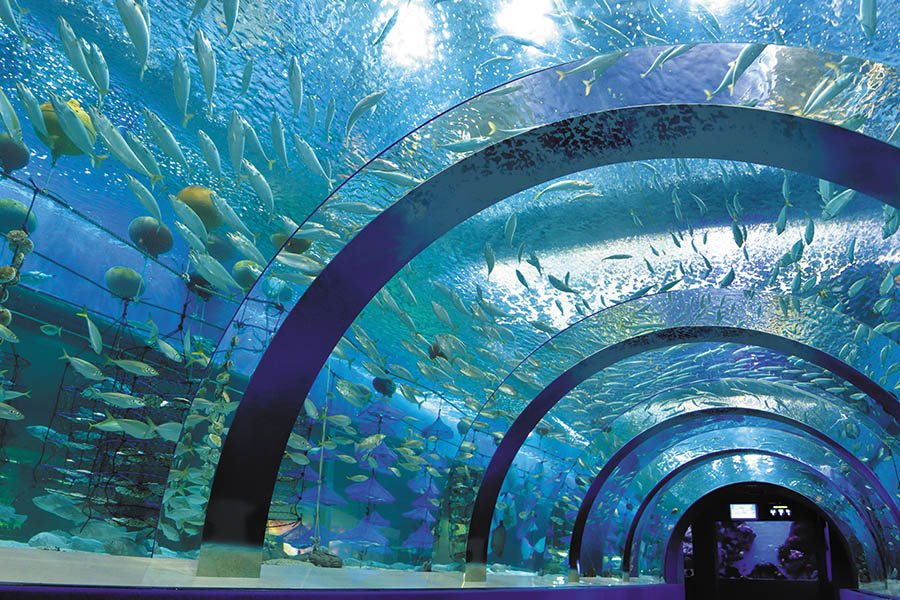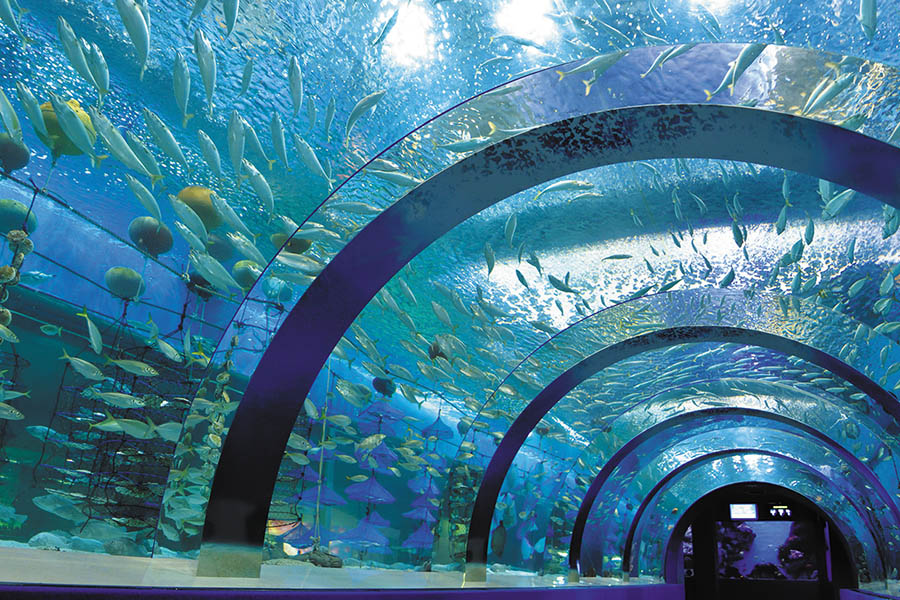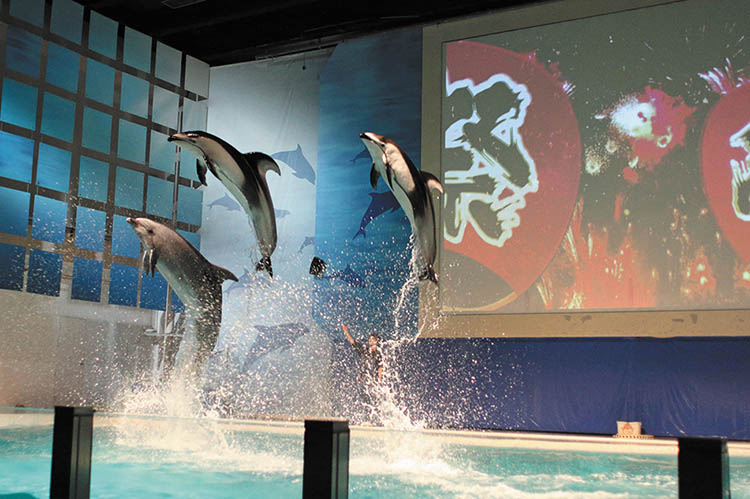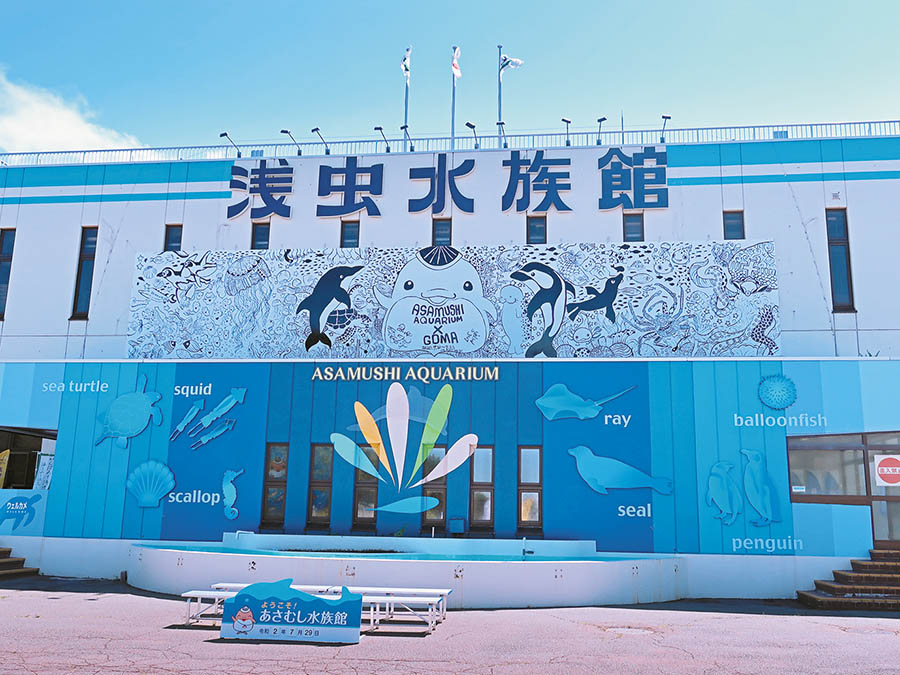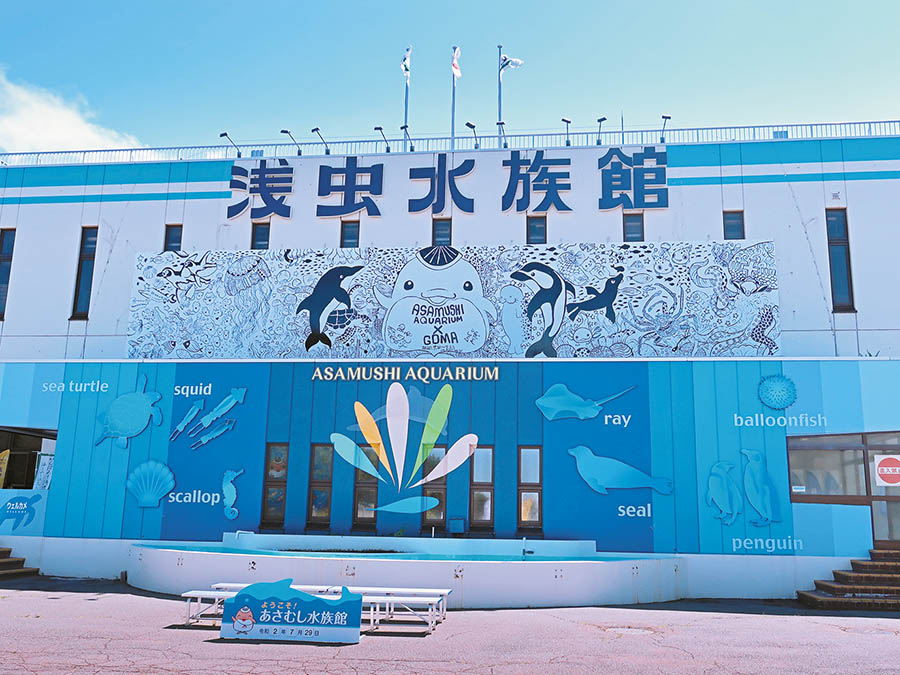 .
STOP-OFF SPOT: Foot Bath
Of course you should visit onsen. The free foot bath facility in front of Asamushi-Onsen Station is famous. You can casually enjoy onsen while waiting for your train to go back home.
For Asamushi Onsen, please check the web article.
RECOMMENDED POINT: Molly's Cafe
"Molly's Cafe" inside the Asamushi-Onsen Station building sells sweets and souvenirs made with specialties of the prefecture, including "Kujira-mochi" with a flavor of walnuts and a unique chewy texture. Enjoy the delicious specialties of the prefecture. Cute items of image character "Molly" are available.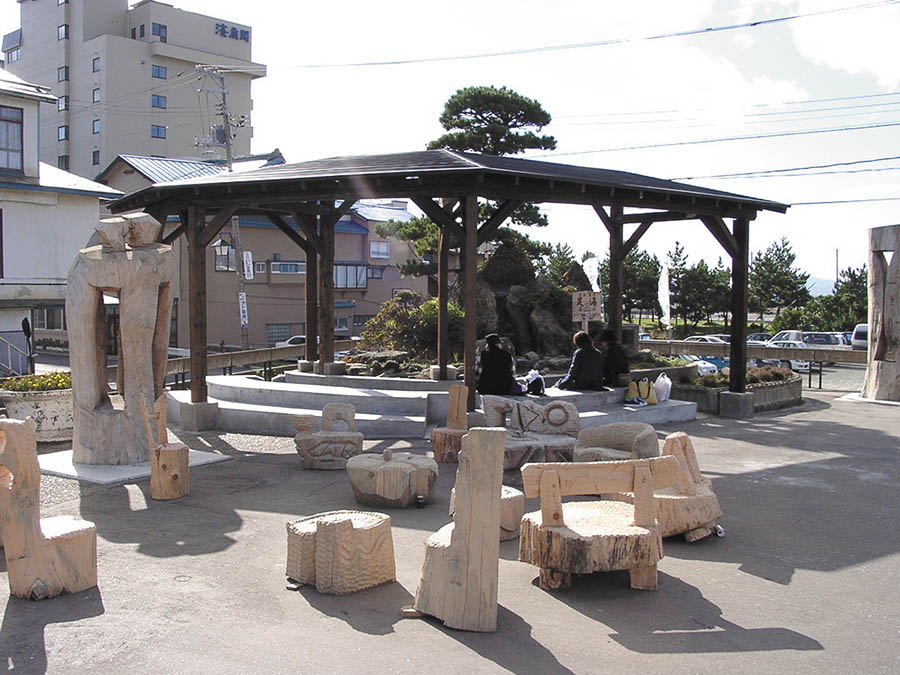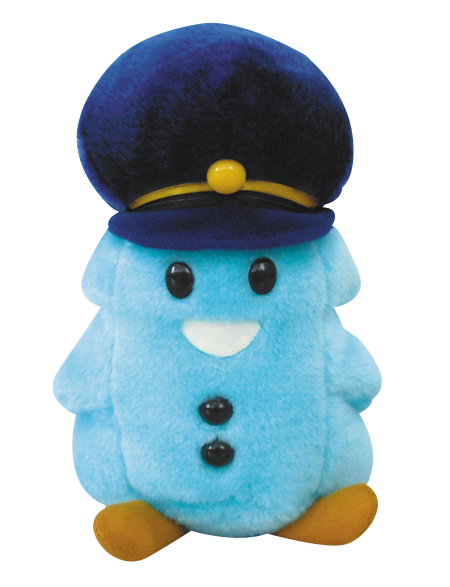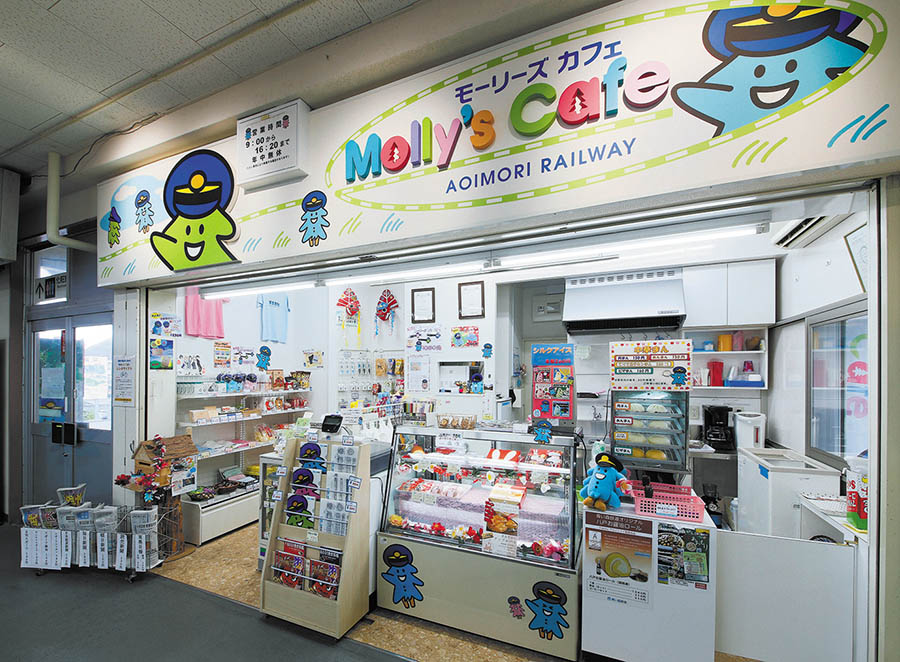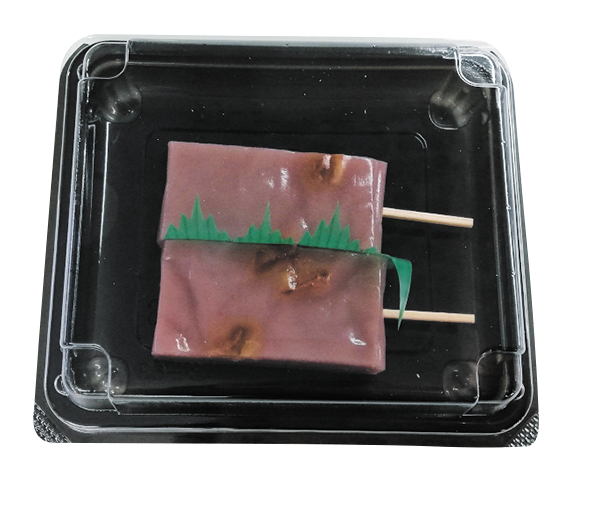 .
3. Sanriku Railway
.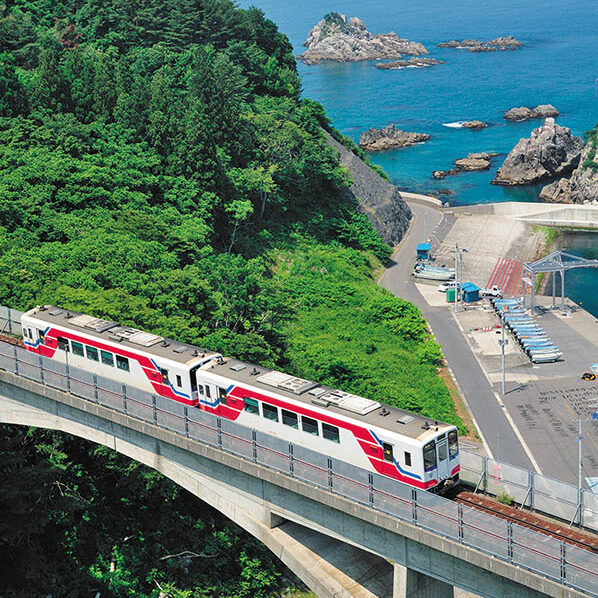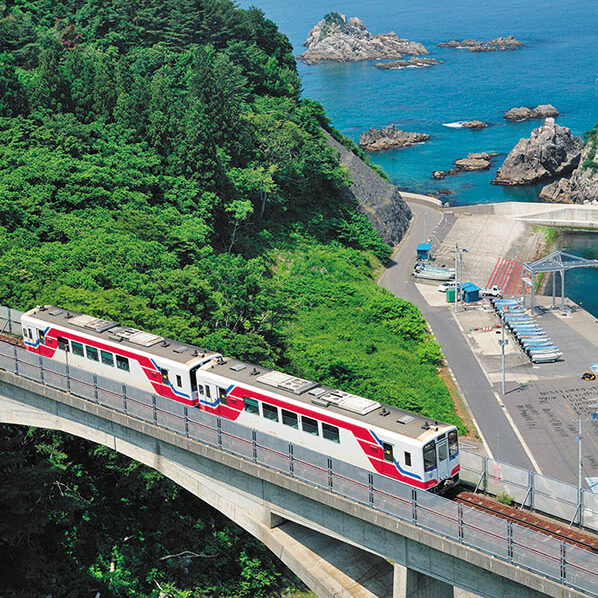 STOP-OFF SPOT: Jodogahama Beach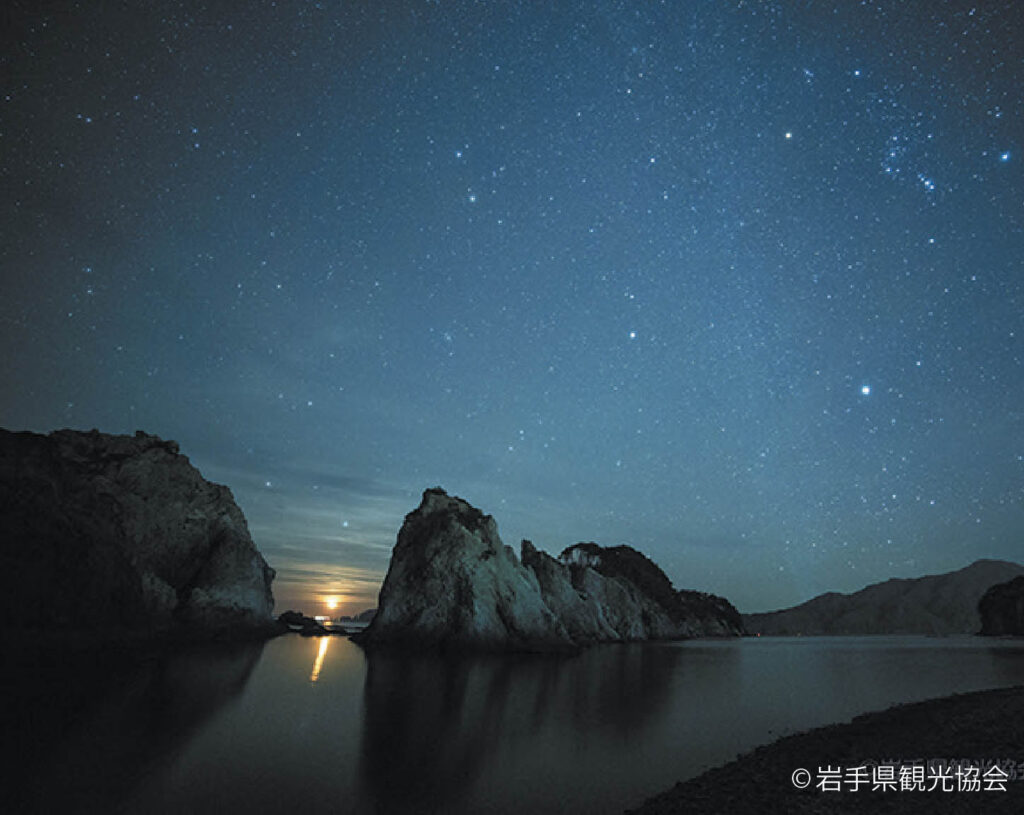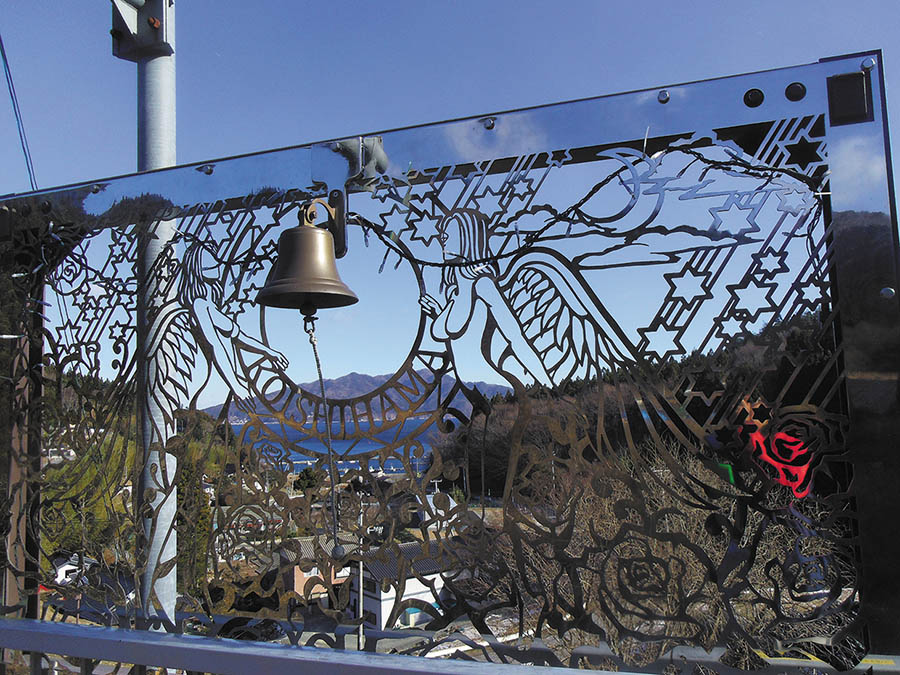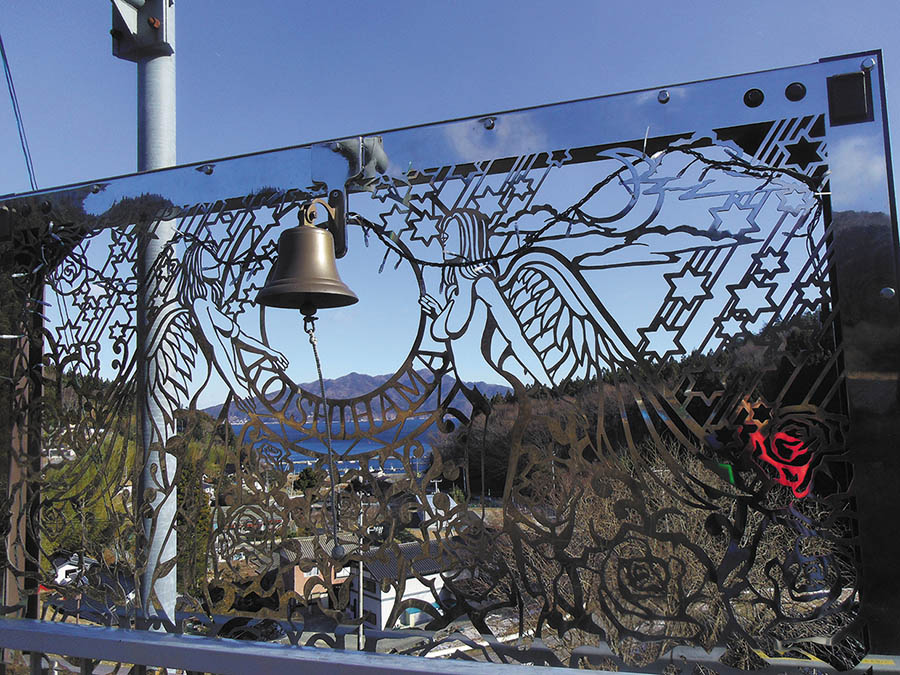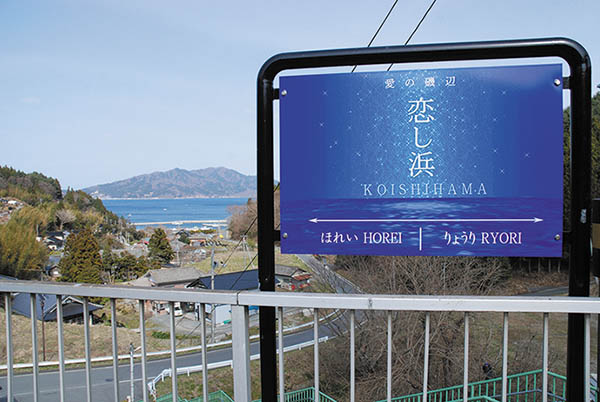 .
RECOMMENDED POINT: Delicious Station Food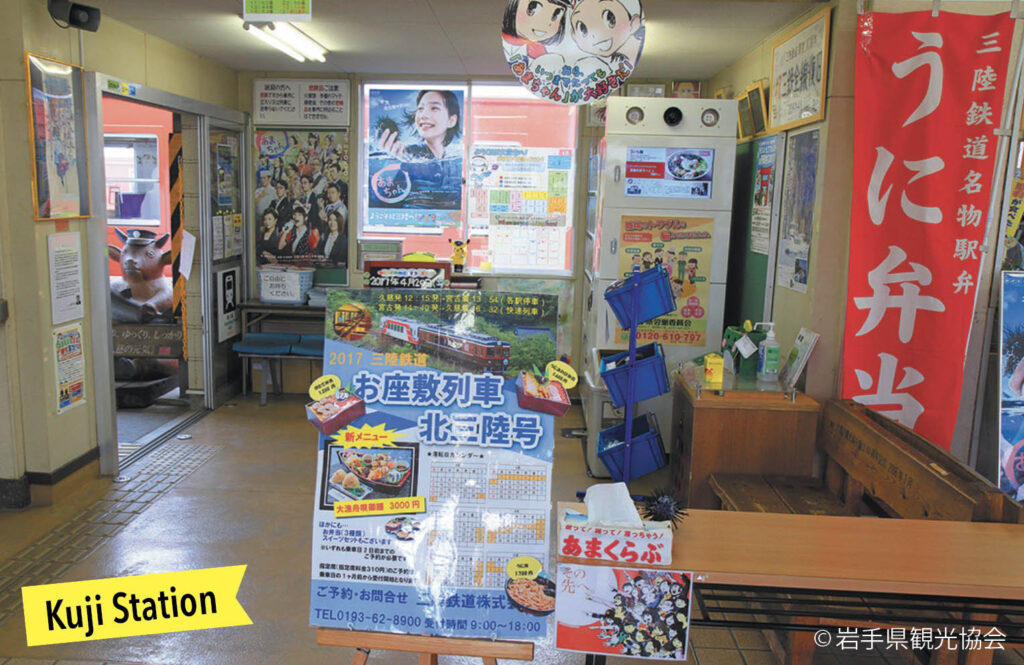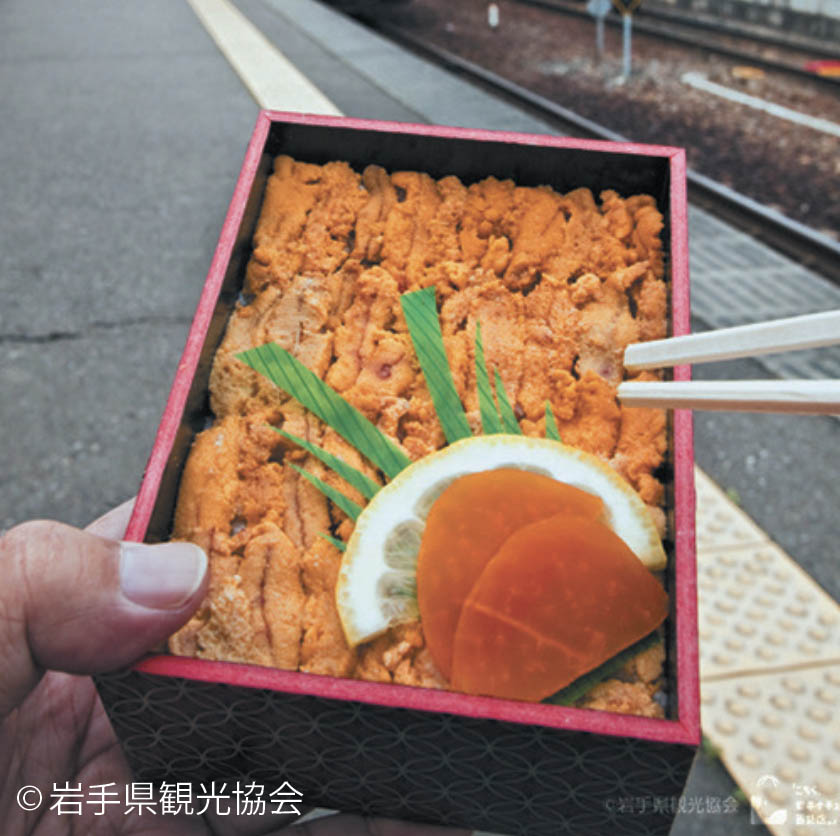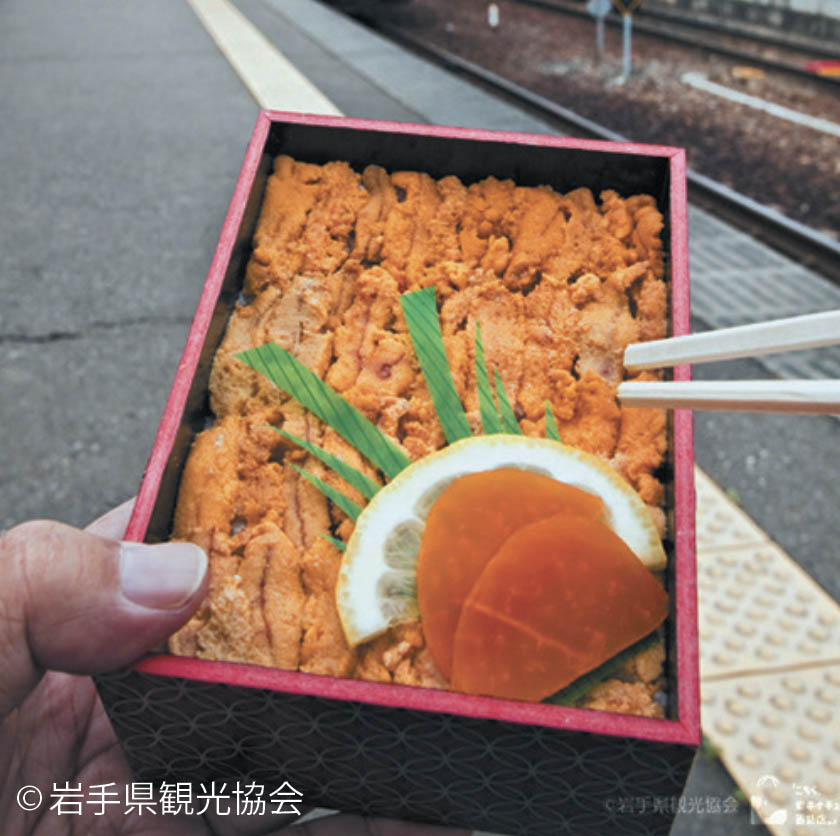 This is a popular line running along the Sanriku Coast facing the Pacific Ocean in Iwate Prefecture. With a great view of the ocean, it runs from Kuji Station in the north to Sakari Station in the south for a total of 163km. Recovered from the damage caused by several natural disasters, such as the 2011 Great East Japan Earthquake and the typhoon of 2019, this line is beloved by the local people as an important means of transportation.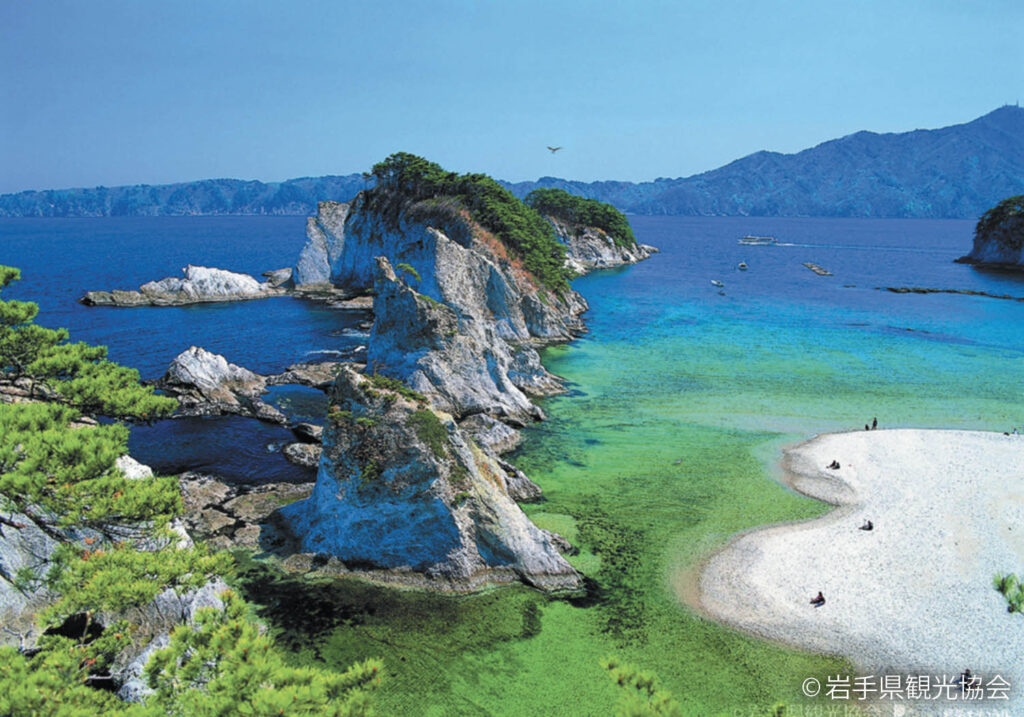 In about 20 minutes by bus from the nearest Miyako Station, you can see a wonderful view with white rocks with sharp points rising from the ocean in a quiet bay, which is said to be "like heaven." The contrast among the green color of the pine trees, white color of the rocks, and blue color of the ocean is just beautiful.
STOP-OFF SPOT: A romantic station filled with love
The name of the station "Koishihama" used to be written as "小石浜," which literally means "small stone beach," but it was changed in 2009 to the present kanji character "恋し浜," which literally means "beloved beach," due to the deep fondness of the local people. With "Shiawase no Kane" (bell of happiness) on the platform and a bunch of scallop shells with wishes for success in love written by visitors, hanging in the waiting room, the station is said to be a "power spot" of romance.
Kuji Station was used as a setting for a popular Japanese drama. The shop inside the station called, "Sanriku Riasu-tei," offers a wonderful specialty bento called "Uni-bento" (sea urchin bento). You may want to pre-order it if you want to be sure to try it. Rikuchu-Noda Station is a unique facility combining a railway station and a roadside station. "Roadside Station Noda" offers a popular soft serve ice cream called "Noda-shio soft," with a hint of natural sea salt.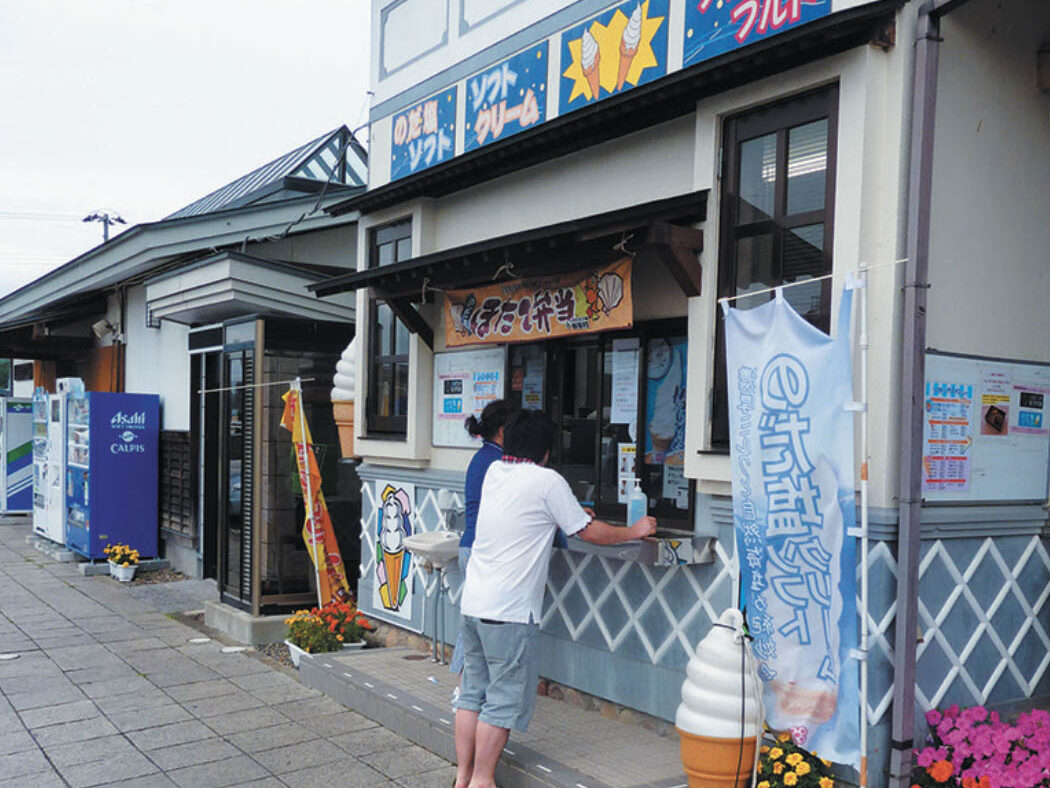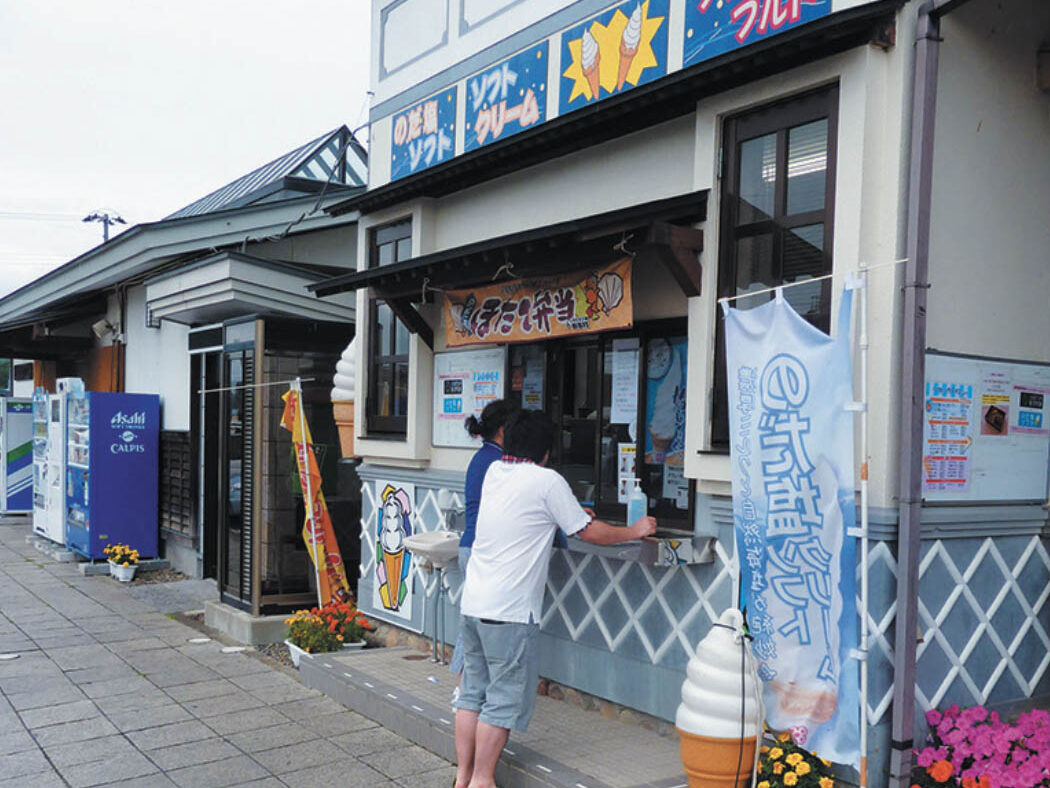 .
4. Aizu Railway
.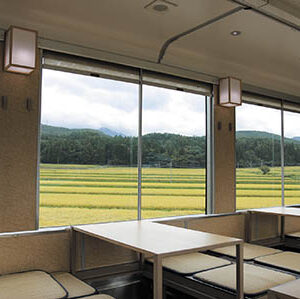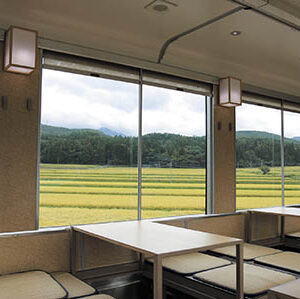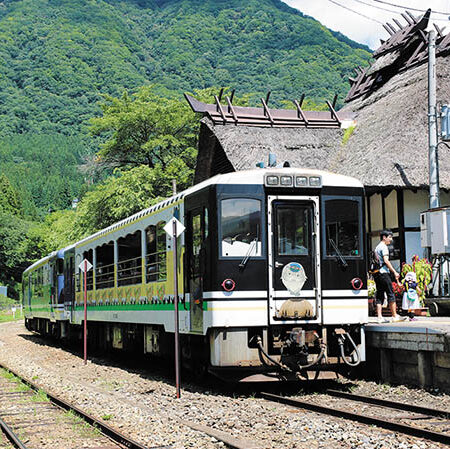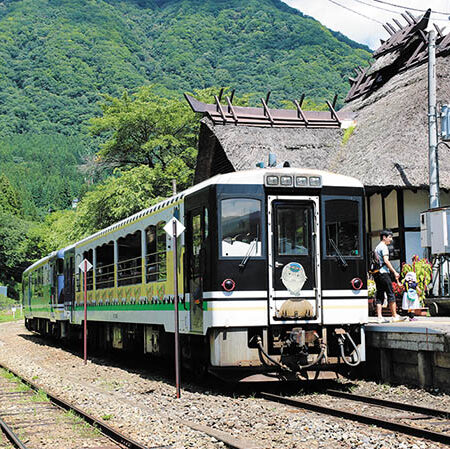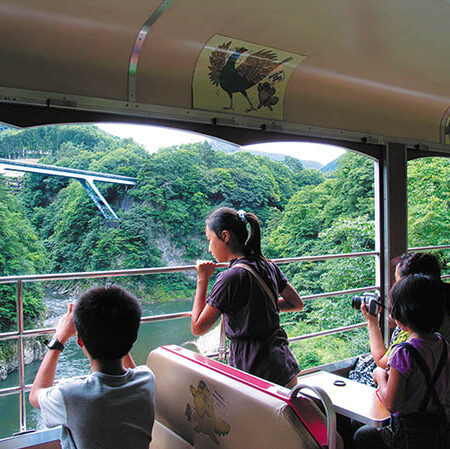 A railway connecting Nishi-Wakamatsu Station in Fukushima Prefecture and Aizu Kogen Ozeguchi Station. "Oza-Toro-Tembo" train is a hybrid train, with which you can enjoy three types of trains in one, including "Ozashiki" tatami-mat seats, "Torokko" car, and "Tembo" observation seats. The grand view from the train window is breathtaking. (The train is mainly in operation on Saturdays and Sundays from April to November.)
.
STOP-OFF SPOT: Ouchi-juku
Ouchi-juku used to prosper as a post station along Aizu Nishi Kaido road, which was a main pre-modern highway in the Edo period (1603–1868). With thatched houses built up to several hundred years ago on both sides of the street, the old atmosphere is well preserved. In 1981, Ouchi-juku was selected as one of the Preservation Districts for Groups of Traditional Buildings. The nearest station, Yunokamionsen Station, has a rare station building with a thatched roof.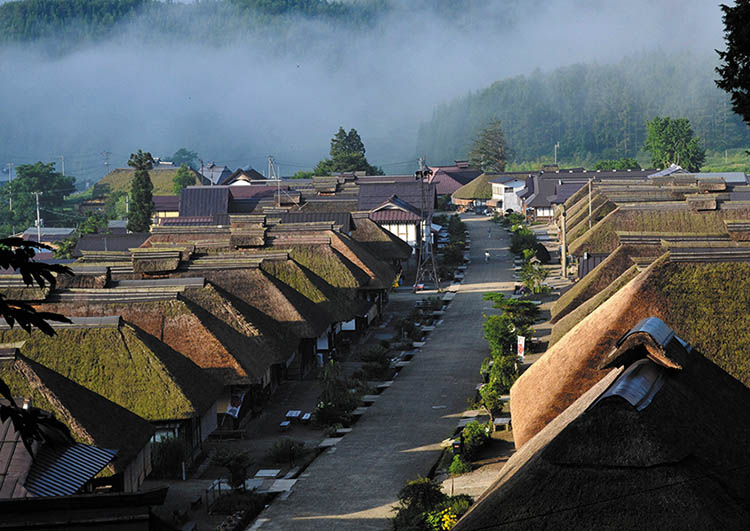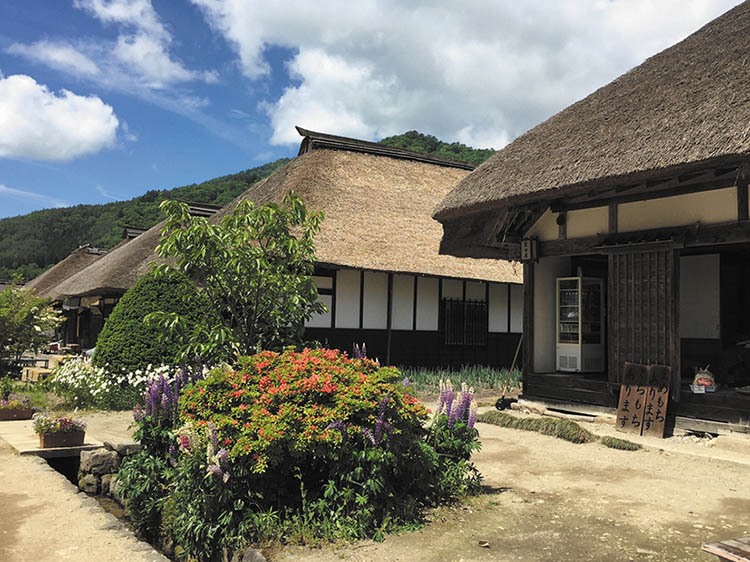 .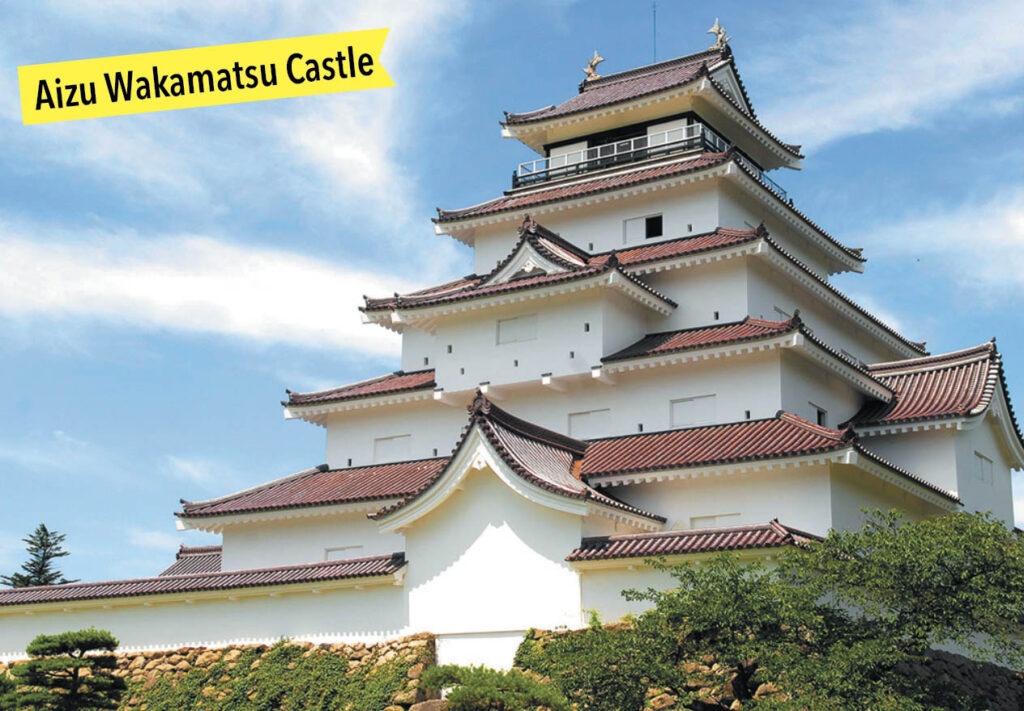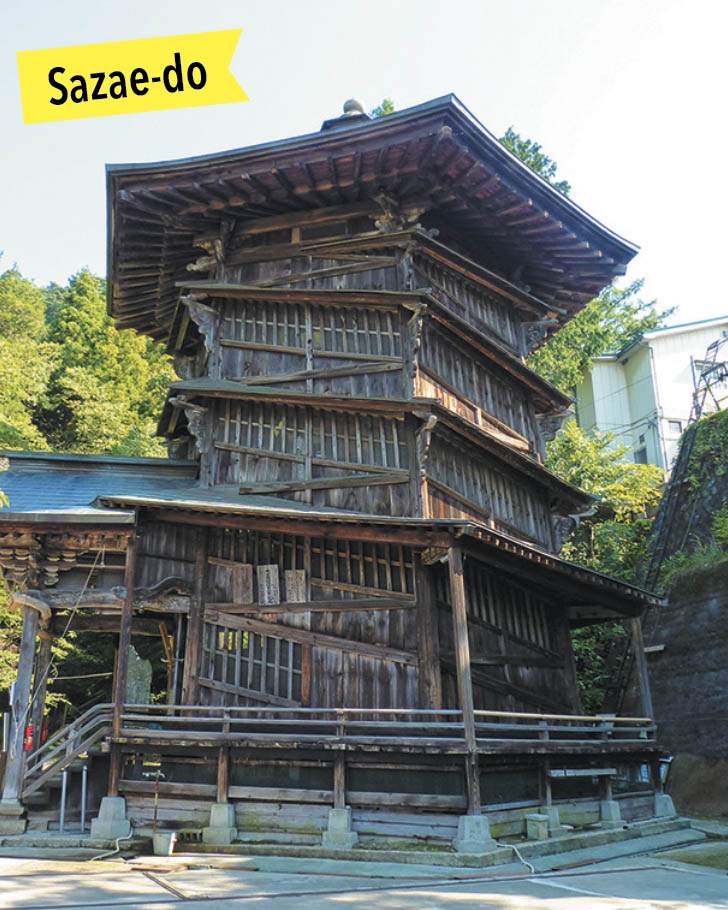 STOP-OFF SPOT: Aizuwakamatsu
This town has a lot of spots to see, such as Aizu Wakamatsu Castle, more commonly called Tsuruga Castle by local people, Iimori Hill, and Sazae-do. This area also has lots of heartbreaking stories related to the war that took place in the town during the chaotic days of the end of the Tokugawa shogunate. Built in 1796, Sazae-do is a three-storied, hexagonal pagoda, with a height of 16.5 meters. Its architectural style is very unique and rare worldwide, in which the ascending passage and the descending passage never cross each other. It is designated as a nationally important cultural property.
.
RECOMMENDED POINT: Sake
Fukushima Prefecture is extending its great record of the "highest number of gold awards received in Japan for seven consecutive years" at the Annual Japan Sake Awards, which has been held since the Meiji period (1868–1912). There are many new kinds of delicious sake made by Aizu's sake breweries, including Hiroki, Sharaku, Yuri, Tenmei, and Aizumusume.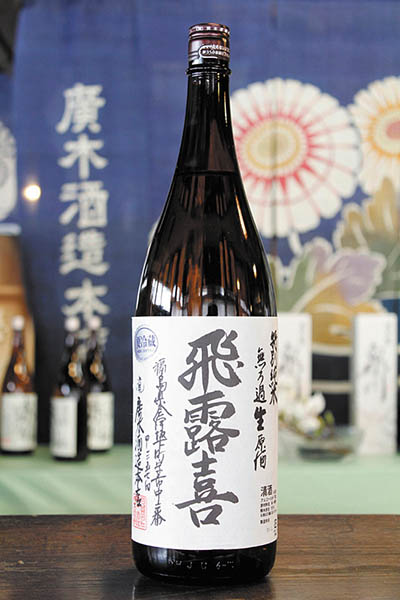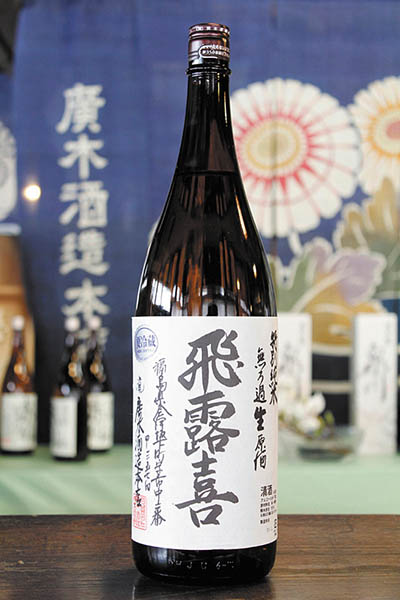 .
About att.JAPAN
The magazine att.JAPAN is for non-Japanese visiting from overseas and those residing in Japan. This quarterly magazine written in English, Mandarin, and Korean offers a wide range of information about Japan—from travel and sightseeing to various aspects of traditional culture and the latest trends. The magazine is distributed at major airports, hotels, and tourist information centers throughout Japan.
https://att-japan.net/en/
Facebook: att.JAPAN
Instagram: att.japan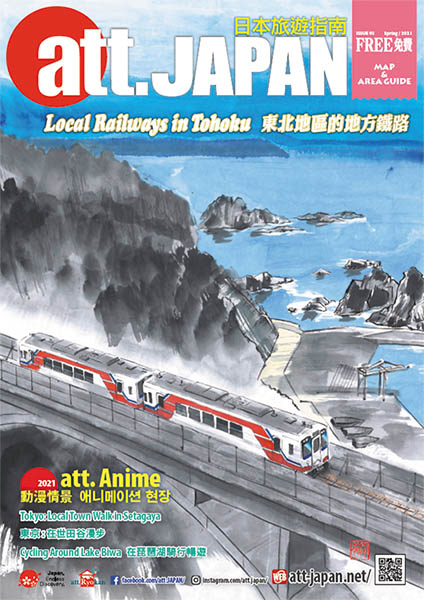 .
.
.
.