Late last year, you were introduced to rakugo, Japan's enduring art of storytelling. But were you aware that there is another traditional oral storytelling style known as kodan? Unlike rakugo, which has always been a commoner's form of entertainment, kodan owes its origin to the lectures on historical and literary topics presented to high-ranking nobles during the Heian period (794 to 1185). As the tradition evolved over the centuries, it was adopted first by the samurai class and later by the commoners. 
Analogous to Kamigata rakugo, kodan is performed while sitting behind a desk (shakudai) or lectern and using clappers (hari-ohgi) or a fan to mark the rhythm of the recitation. However, unlike Kamigata rakugo the art form derives its topics from classic chronicles and historic events. As kodan became increasingly popular among the commoners, the stories were adapted to center around townsfolk, pilferers, and requiters rather than nobility and samurai. 
.
In 1700, a man named Nawa Seizaemon became the first professional kodan storyteller (kodanshi) in Edo (Tokyo). From the late Edo period to the Meiji period, the popularity of kodan exceeded that of rakugo and performance halls dedicated to kodan storytelling grew to 50 in Tokyo alone. After World War II, several acts of kodan were forbidden by the General Headquarters of the Allied Powers (GHQ) because they contained elements of feudalism and centered on the celebration of vengeance. Even after the ban was lifted, kodan grew increasingly out of touch with the changing times and was left behind in favor of other forms of entertainment.
Today, the number of professional kodanshi is merely one tenth of the number of professional rakugoka (rakugo storytellers). Whereas rakugo is still dominated by male storytellers, kodan generally employs more women. In Tokyo for instance, female kodanshi account for 70% of all kodan storytellers. Like rakugo, kodan is divided regionally between Tokyo and Osaka (Kamigata). Kodan performers in Tokyo belong to either the Kodan Association or the Japan Kodan Association. Performers in Kamigata belong to one of three associations: the Kamigata Kodan Association, the Osaka Kodan Association, or the Namihaya Kodan Association. There are four schools or performing families in Tokyo and they include: Ichiryusai, Tanabe, Takarai, and Kanda. The Kamigata performers are divided into two factions: the Hakuryu Ichimon and the Sanyo Ichimon.
.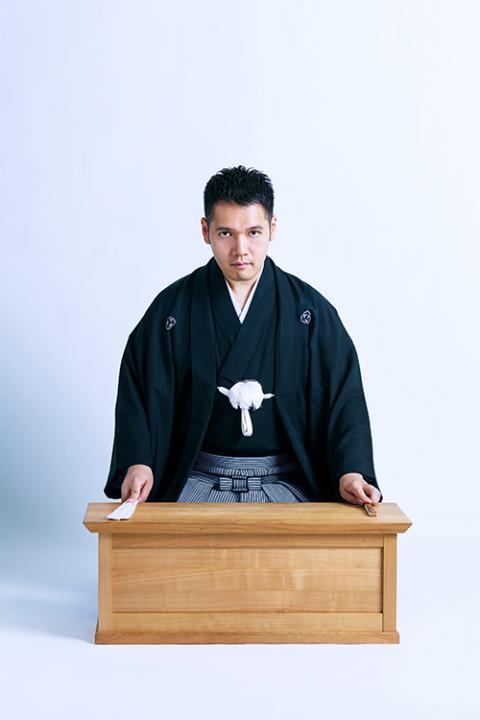 .
Despite its limited number of professional storytellers, kodan storytelling is currently enjoying a revival thanks to a kodanshi named Kanda Hakuzan VI. Hakuzan (38) made his debut 15 years ago, as the apprentice of Kanda Shori III. He reached the highest rank attainable in kodan in February 2020, in what became the fastest rise in history. Tickets to his energetic performances consistently sell out in no time.
Another kodanshi who is making a name for herself these days is Takarai Kinkaku V, a female storyteller belonging to the Kodan Association in Tokyo. She officially began to train under master storyteller Takarai Kinsei in April 2006 and was promoted to the highest rank in October 2019. 
I had the opportunity and the pleasure to interview her recently, to find out what inspired her to become a kodan storyteller.
.
.
Interview to Kondanshi, Takarai Kinkaku V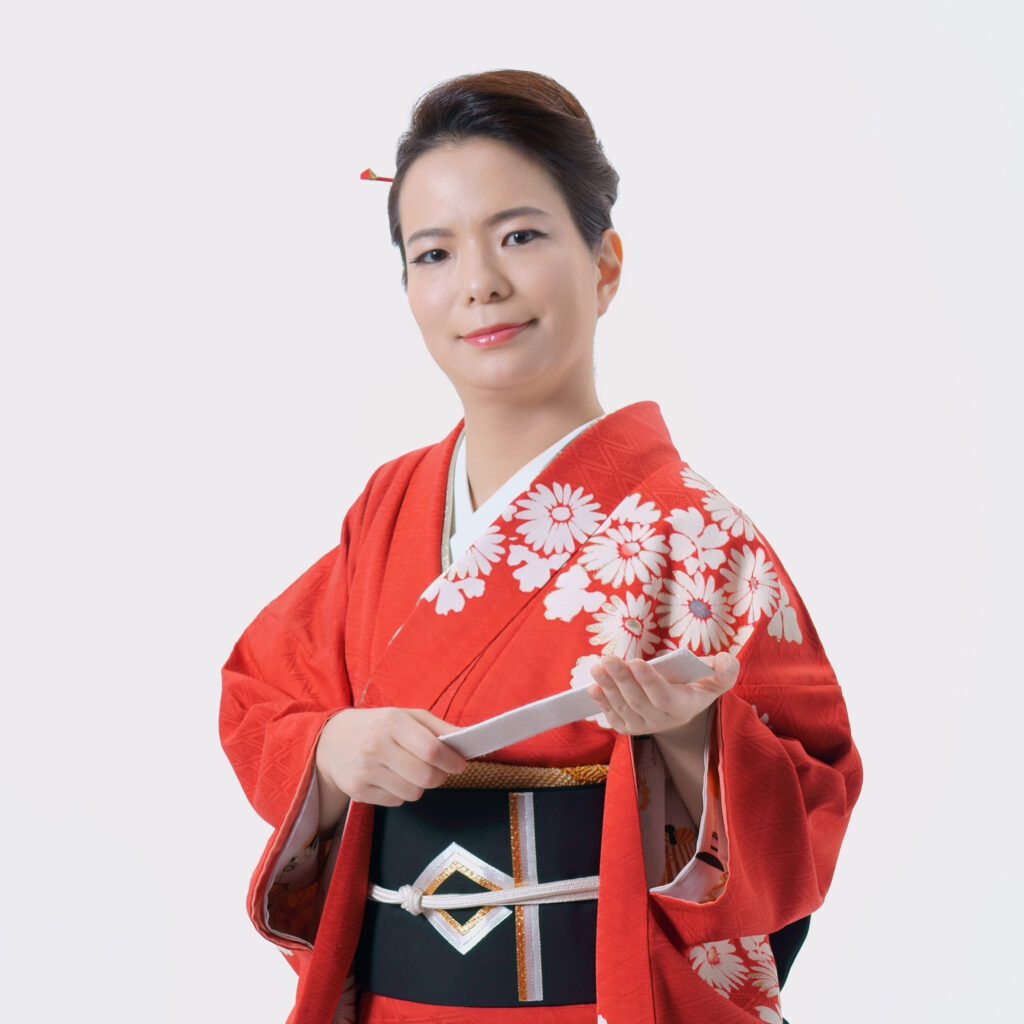 .
KO: I have read that you have been studying kodan since you were a junior high school student. What attracted you to kodan storytelling initially?
.
TK: My parents were big fans of kodan storytelling, and they began taking me to kodan performances when I was still in kindergarten. This continued throughout my elementary school years.
.
KO: After you graduated from Yamagata University, you worked for a publisher in sales. What made you quit your job and pursue kodan as a professional?
.
TK: The publishing company I worked for specialized in agriculture. I wanted to work in the editorial department, but we were all forced to work in the business department for the first few years. The job proved to be difficult both mentally and physically, and when I saw that there was no prospect of ever working for the editorial department, I quit the company. 
Working for the business department improved my speaking skills. I remembered that I had learned kodan when I was younger, and I started to think about pursuing the narrative art as a career. I also felt that I was not cut out for working for a company, so I decided to become a professional kodanshi.
.
KO: In a previous interview, you mentioned that your master did not teach you the detailed techniques of kodan storytelling. Can you briefly describe what your apprenticeship was like?
.
TK: In the world of traditional arts, they often say, "Steal the skill." In other words, you learn by observing. There is no instruction manual—that is my understanding. My master said, "If I teach you every detail, you may become skillful, but that is not my style of teaching. I want you to strive to become a big artist." 
I was once told that art exists beyond the definition of being good or bad.
.
KO: Compared to rakugo, kodan has a significantly higher number of female storytellers among its ranks. I believe this is due to the fact that there are many more topics in kodan that are suitable for a female storyteller. You have written original kodan stories. Do you focus on gender when you choose your topics?
.
TK: I don't particularly focus on women when I write, but my storytelling art cannot exist without my identity as a woman.
.
KO: Since 2018, you have written three books on the topic of kodan. From one writer to another, is it more challenging to write a kodan story than it is to produce a manuscript for a book?
.
TK: They are two totally different things. When I write books about kodan, I collaborate with others to produce a good introductory guide for the general public. When I write a modern kodan story, I do extensive research, conduct interviews, and focus on the structure of the story. It is painstaking work. 
.
KO: Of all of the stories you have performed to date, do you have a particular favorite you like to perform? Your signature story?
.
TK: "Mikatagahara Gunki," a story about the 1573 battle between Takeda Shingen and the joint forces of Tokugawa Ieyasu and Oda Nobunaga. 
It was the first war story we learned after we entered the world of kodan. We recite the story using a distinctive tone, whereby we train our voice and acquire the rhythm of kodan. It is a basic story, but it may also be the most difficult story with which to capture the attention of the audience. We begin with this story, and we end with this story. 
We have other war stories such as "The Battle of Kawanakajima" and "The Genpei Battle." These stories are the oldest type of kodan stories, and I would like to tackle these stories someday. At the same time, I would like to perform modern stories drawing on topics from foreign countries such as "Ertugrul." I believe the audience would enjoy these types of stories.
.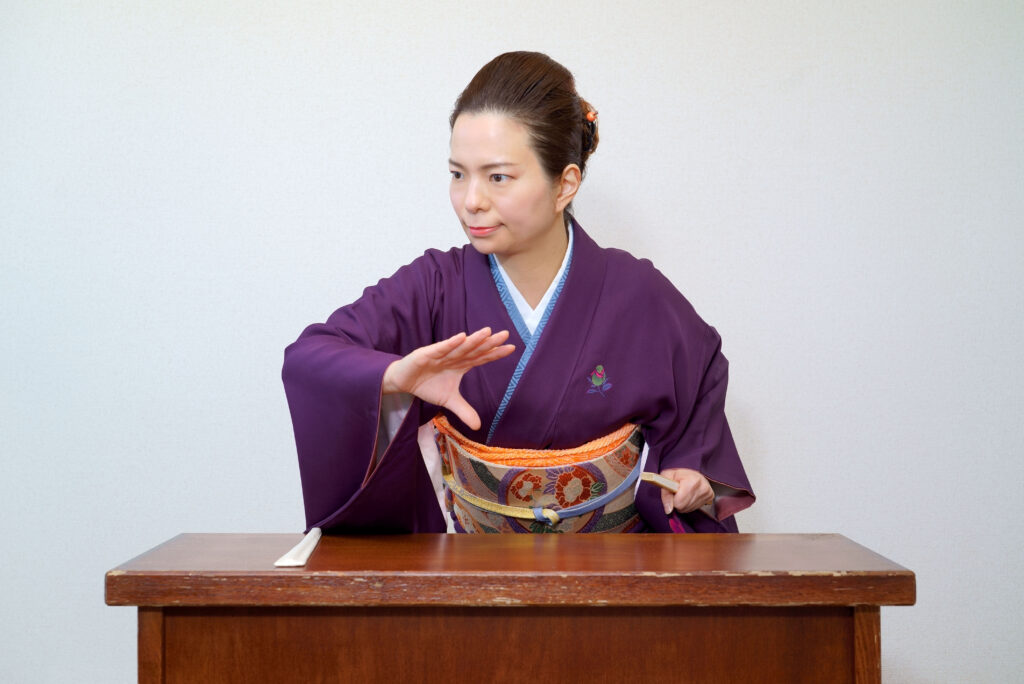 .
KO: English rakugo is currently gaining popularity and the rakugo stage features foreign performers more frequently these days. Kodan also has a foreign storyteller, Kyokudo Nanshun. 
Would you like to see kodan performed in English? What would some of the hurdles and challenges be for performing kodan in English?
.
TK: Actually, my master's mentor, Takarai Bakin Ⅵ, attempted English kodan. He had studied English literature at Meiji University, so he was rather good at speaking English. I heard that he performed classical kodan in English to foreign students in Japan. 
Kodan storytelling employs a fundamental rhythm with a seven-and-five-syllable meter. I don't know if this rhythm can be maintained when a story is translated into English. I think it would be rather easy to translate the story itself. I hope that the translator can also transfer the necessary rhythm to the translation.
In his younger days, Takarai Bakin also attempted "Rock Kodan" on NHK. He recited kodan stories in Japanese with the music of Jimmy Hendricks, Janice Joplin, Pink Floyd, etc. inserted in-between. I think this will work in English too.
.
KO: You teach beginner courses and children's courses in kodan. The art form is enjoying a revival of sorts recently thanks to Hakuzan-san. What are your thoughts about the future of kodan? What would you like to see happen for kodan to endure for many years to come?
.
TK: I offer kodan classes for amateurs with the aim of further popularizing kodan. My students are kodan fans and they support us. 
Hakuzan is a significant presence in the world of kodan. He encourages and motivates people to listen to kodan storytelling. Some of my fans started listening to Hakuzan's kodan first and later transitioned over to me. But this phenomenon might be fleeting. I would like to take advantage of this opportunity to increase kodan's reach and contribute to its development while it is still popular.
I believe we have to polish our skills and present kodan in various formats. After the COVID breakout, I began streaming kodan online. 
.
KO: Any parting words for the readers? What message would you like to send to those readers who are reading this article/ interview in the United States?
.
TK: In Japan, we have many forms of narrative art such as rakugo, kodan, and rokyoku. We also have storytelling accompanied by the biwa [Japanese short-necked wooden lute], nagauta [traditional Japanese music played on the shamisen], gidayu [a type of chanted recitative], tokiwazu [narrative music] and kiyomoto [narrative music accompanied by shamisen]. There is the utai of Noh and the Buddhist shomyo, shigin, which can be categorized more as songs rather than storytelling. Among these, kodan covers an extremely wide range of stories including funny stories, sad stories, stories of success, and cultivated stories. All the stories are recited by a lone storyteller, who also portrays all of the characters in the story. There are many unique, archaic phrases, which never bore the audience. 
I want people to listen to various types of stories and various types of storytellers repeatedly.
.
---
1:  The story about a Turkish frigate which sank off the coast of Wakayama Prefecture in 1890 while returning home from a good will voyage to Japan. 
2:  NHK, also called the Japan Broadcasting Corporation is a Japanese public broadcaster.
.
Takarai Kinkaku's interview translated into English by Tatsuya Sudo.
.
『Kristine's Eye on Japan: Introduction to Japanese Culture』
Writer: Kristine Ohkubo
.
(7/5/2022)