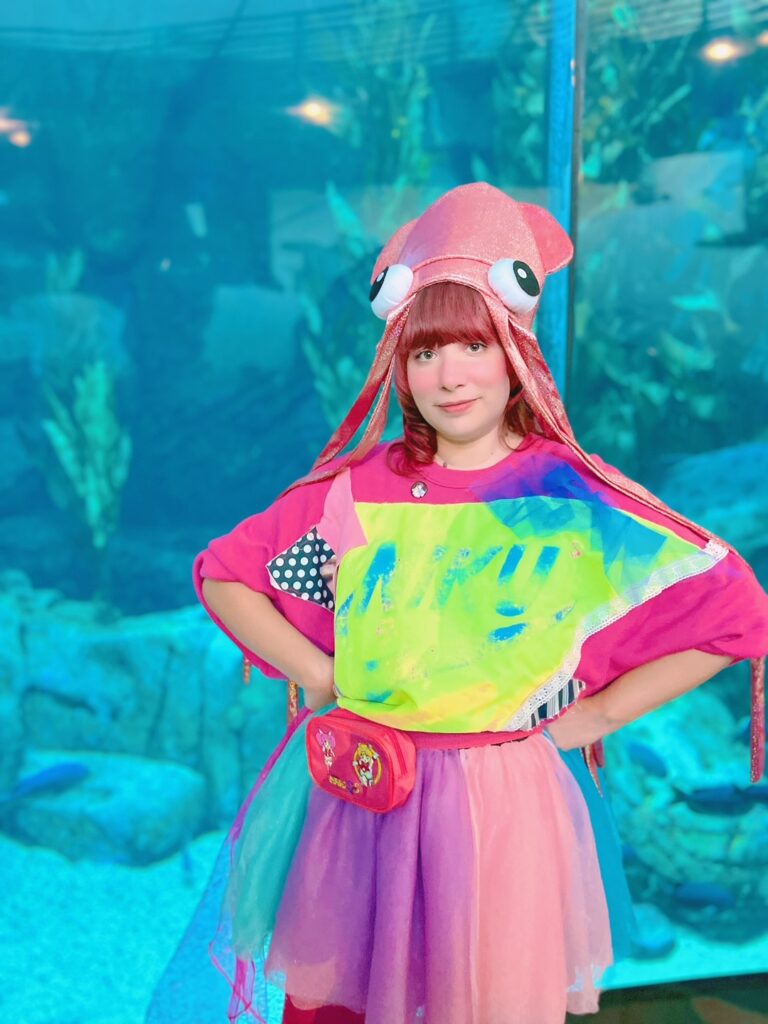 Anime has always been a big part of how many people start learning more about the Asian community. I've known many people who started watching Anime which led to loving Jpop music and subsequently Kpop music. Through music and entertainment media many start appreciating and wanting to learn about Asia and Japan. A perfect festival to do so would be at the annual Autumn Festival held at Aquarium of the Pacific in Long Beach, CA. In collaboration with Wow Productions, the festival celebrates Asian culture. I had an Anime Pop concert at the festival which consisted of my original songs written in both English and Japanese and famous covers from Anime and Video-games. Many children were in attendance so I made sure to choose songs that would be happy and cultivate a love for music and Japan. In between songs I would teach the children what certain Japanese words meant and what my songs meant. When I'm not on stage, I'm teaching music to the younger generation. So for this concert it was fun to combine my concert and some elements of what I do in my music classes together for this special show.
As seen in the above photo Ryujin Taiko are an amazing group of drummers that you can usually find at your local Japanese/Asian festival ready to entertain and show the light-hearted side of Taiko. I had the honor of having Ryujin Taiko join me for the last song of my concert. For the finale I performed my original song "Ultimate Miku World" that I officially released with Hatsune Miku for the now defunct online Japanese gaming avatar site TinierMe. This was my first time singing with the taiko drums and I was moved! I could really feel Ryujin Taiko's vibrations through their drumming while I sang with all of my heart and soul for the children and children at heart. The Annual Autumn festival had many entertainers and activities celebrating Asian culture for the little ones to experience throughout the festival.
Find more info about the Aquarium and the festival here:
https://www.aquariumofpacific.org/events/archive/autumn_festival
Recently I also had the honor of performing with my friend and very talented music artist Polartropica. Polartropica headlined a very famous venue in LA. The Troubadour is a legendary venue where so many famous artists performed like Elton John who just had sold out concert at The Dodgers Stadium. Polartropica was born in Taiwan and raised in California. They create dreamy whimsical quirky pop music with lyrics from the heart of a POC LGBTQ Female music artist. Polartropica's concert was amazing and she really takes you to another world. It was truly an honor to be invited to perform with her. I got to perform my version of the Sailor Moon theme song I recently released with Spanish producer Sotui and Japanese music artist misono. I was so happy to perform with Polartropica and see the audience singing along. It really shows how influential Anime is and has become that even at a live venue in Southern California people were singing along to an Anime theme song. I was performing that night in honor of our good friend Greg Highnight who recently passed away. Greg Hignight was a big advocate and ally for the community performing many DJ sets and running many events highlighting Asian music. Unfortunately Polartropica's show was not showing up on the schedule for The Troubadour. It is hard to say what happened and why it was left out but as a fellow POC female artist I will continue to be an ally highlighting Asian music artists and supporting the Asian community.
You can find more info about Polartropica here: http://www.polartropica.com/
『JAPANESE POP CULTURE NEWS THAT YOU MUST KNOW!!!』
Writer: Stephanie Yanez
Instagram @stephachu
Website https://direct.me/stephachu
(11/22/2022)
,
.
.
.
.