On the 3rd weekend of July each year, the Owari Tsushima Tenno Festival takes place in Tsushima City, Aishi Prefecture. (23-24 /07/2023)
This 500-year-old festival was the favorite festival of samurai and Oda Nobunaga, a Japanese daimyō, of the Sengoku period. It is one of Japan's three main river festivals and held in summer on the Tenno River in Tsushima where several activities take place, the most important of which begins on Saturday evening at dusk with demonstrations of matchlock shooting that the samurai were using.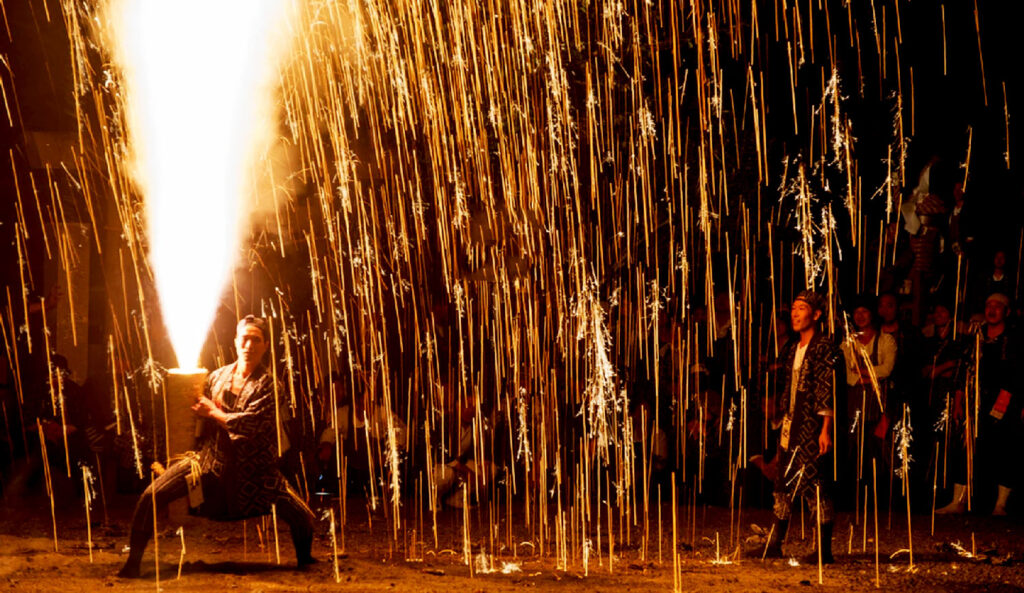 Followed by tezutsu hanabi, tubes that the actors hold in their hands or sprays of colors come out of them, and send arrows of fire thus enlightening the public.
Songs and dances also take place before the five tall, graceful Makiwara boats begin to glide across the water of the Tenno River, each decorated with 365 large paper lanterns representing each day of the year, plus 12 wooden lanterns. regular year, 13 leap year lanterns, on the central pillars.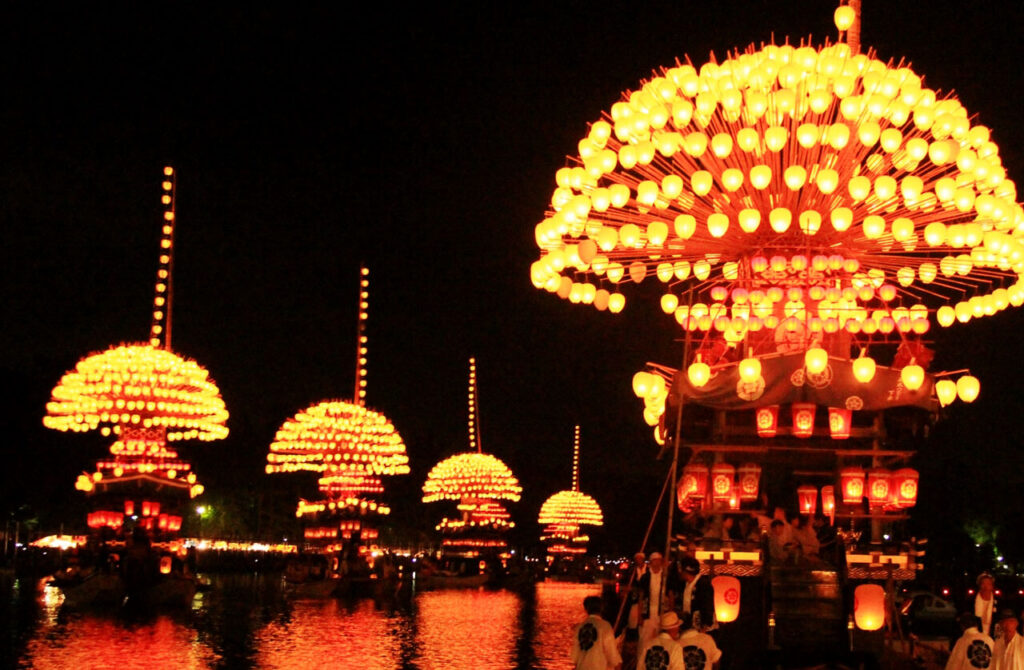 Under the orange-yellow dome of the lanterns hang another 30 red lanterns, with more lanterns decorating the bow of these fantastic floating floats. The reflections of hundreds of lanterns in the dark, calm waters add to the magical effect of this festival.
In this hot period, parents and children, seated along the bank, mostly wear yukata, all waiting for the final fireworks. Many stalls are lined with beautiful colors and where the public can find a meal or a drink.
The next day, during the morning festival, the five Danjiri boats are covered with tapestry of colors. Mechanical Karakuri Ningyo dolls, dressed in Noh costumes are installed in the boat. Ten young men in loincloths holding halberds (made of bamboo and paper) will jump one after another from the Ichieguruma (main boat) into the river, and reach the shore trying to outrun the boat to worship the Otabisho's portable shrine installed on the boat.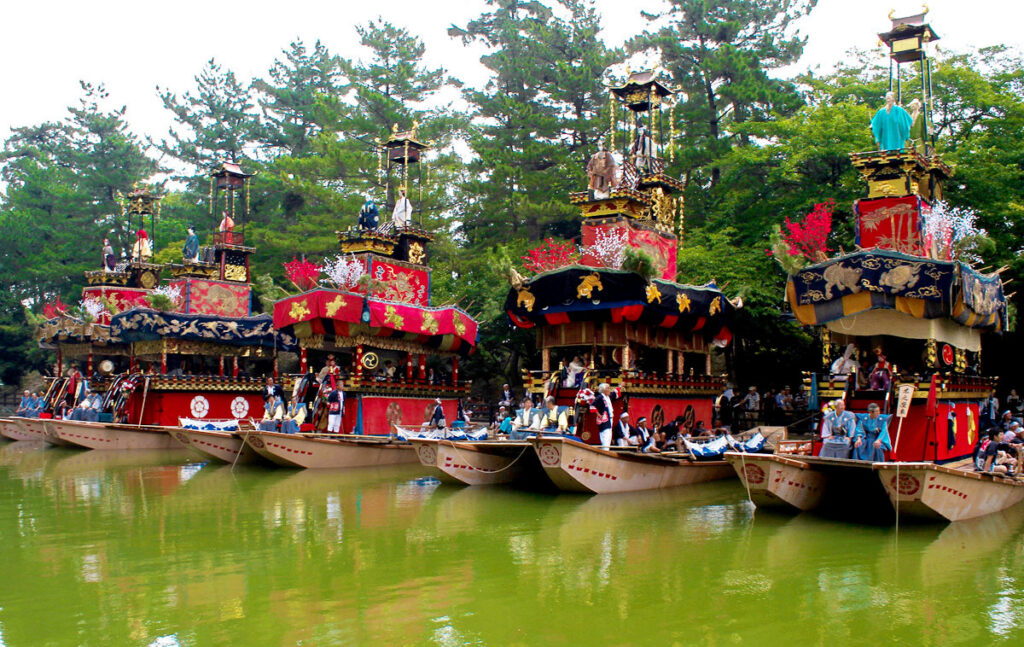 After arriving at the destination, children boarded at the start, are carried ashore from the boat on the shoulders of the bodyguards, the portable shrine returns to the Tsushima-jinja shrine.
The tracked event is followed by music played for the deities at the shrine.
This is an opportunity to visit Japan differently….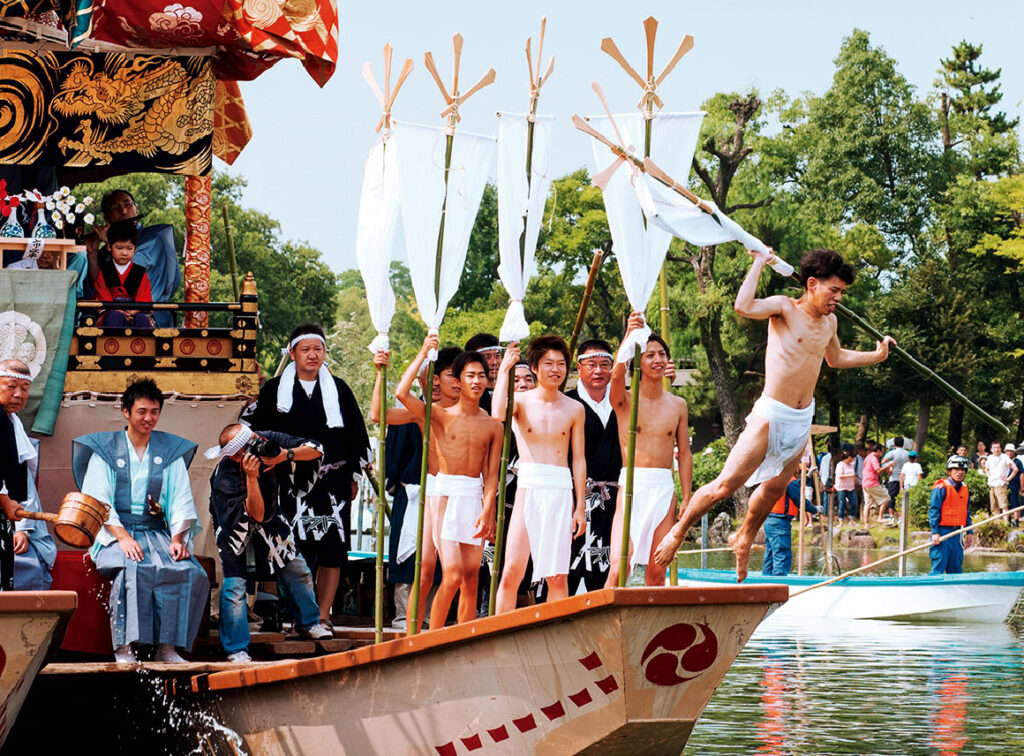 Photo: Jacky
Writer: Jacky De Greef
Website: https://abcsolution.wixsite.com/jackydegreef
Kyoto and Japan Disvovery FB: https://www.facebook.com/DiscoveryKyoto/
Books "Discovery Kyoto": https://abcsolution.wixsite.com/discovery-kyoto/books
(7/21/2023)