On December 31st, the four-month-long program to innovate solutions to dementia came to a conclusion. The program is Japan-America Innovators of Medicine (JAIM), an initiative begun and executed by students from UCLA, Stanford, and medical universities in Japan (University of Tokyo, Kyoto University, and Osaka University). During the 4 months from August to December, JAIM successfully generated 3 medical device prototypes and presented those at 3 national- and 1 international-level conferences.
The healthcare issue that JAIM set to tackle was dementia. Dementia can take a physical, mental, and emotional toll on not only those living with it but caregivers and family members as well. In Japan, 28.7% of the population is over 65 years old, making it the leading graying nation of the world. Of those people, 1 in 6 are diagnosed with dementia. Dementia is a severe public health issue in Japan that cost JPY 14.5 trillion in 2014 alone and projected to reach JPY 24.3 trillion by 2060 when 3 in 10 seniors are expected to be living with dementia.
Yet this is an issue not just of Japan but nations worldwide, including Italy with 23.6% over 65 years old, Portugal 23.15%, and eventually the US in matters of decades. It is a disease without a cure and thus solutions to reduce the burden on or to raise the quality of life of those affected by it are in dire need. To achieve that, JAIM was initiated and was designed to combine the strengths of 3 locations – top-tier technology at UCLA, innovation at Stanford, and the medical need of Japan. Kanon Mori, a UCLA undergraduate, and Tsubasa Tanabe, an Osaka University medical student, who are both members of inochi WAKAZO Project collaborated with Tony Chang, a Stanford undergraduate and director of Stanford SHIFT, in order to make this undertaking possible.
The program started off in late August when 9 JAIM participants, or biomedical and engineering students selected from a larger pool at UCLA and Stanford, all gathered at Stanford University's Byers Center for Biodesign. Here, they received a lecture and workshop by Dr. Fumiaki Ikeno and Lyn Denend from the prestigious Stanford Biodesign fellowship program and later were guided around the facility to witness the various medical device innovations that were generated there.
The following day, participants flew over to Los Angeles where they had a business case workshop at UCLA led by Raffi Simonian from Innovate@UCLA. The next day, the participants flew to Japan where they spent the next 10 days. There, participants visited various healthcare settings like assisted living facilities, nursing facilities, and even home-care settings in rural Japan. These visitations allowed the students to first-hand observe the issues around dementia and directly interact with those living with dementia as well as caregivers/family members. The Japanese-English language barrier was not an issue as they were able to communicate by folding origami and singing songs together.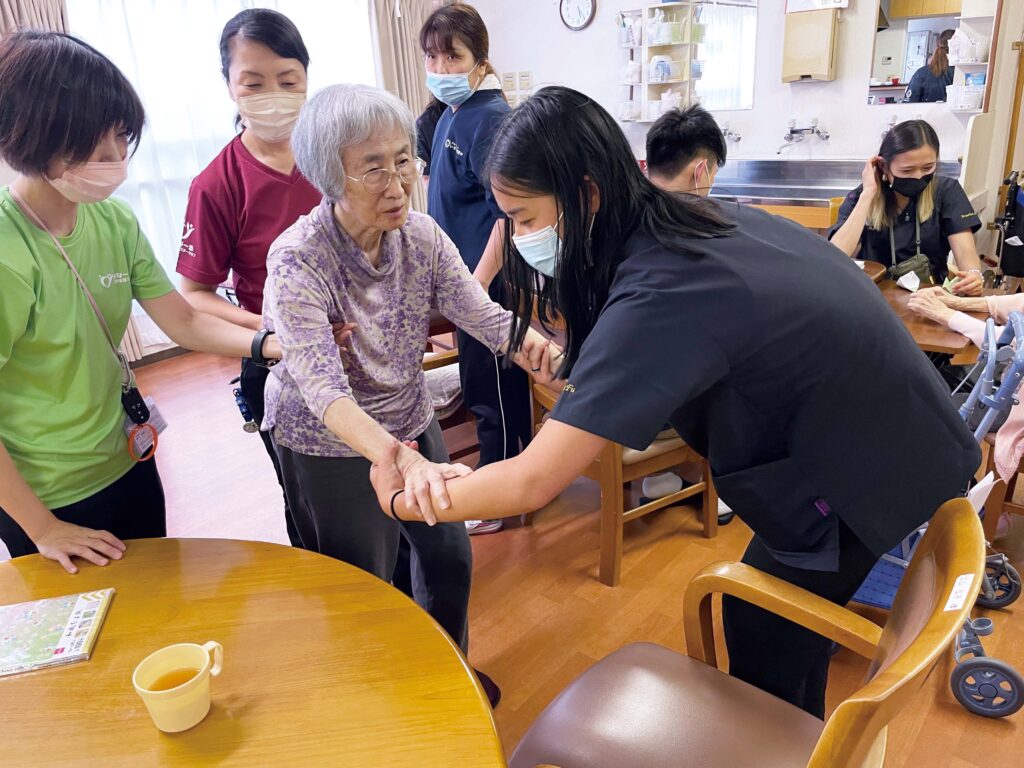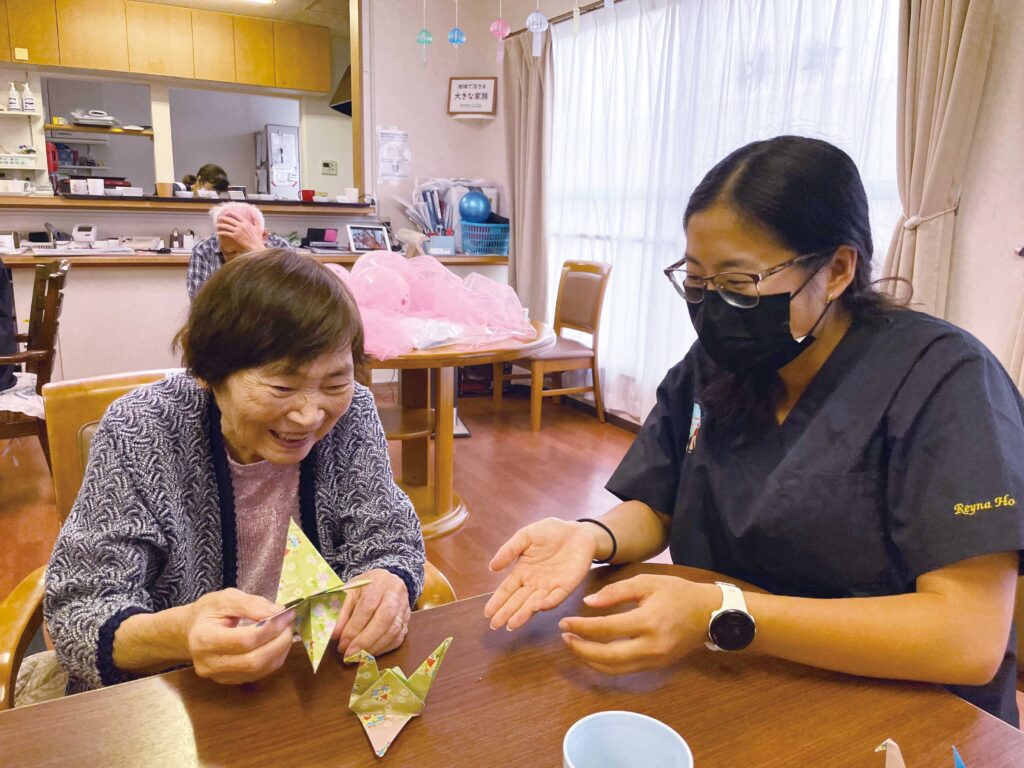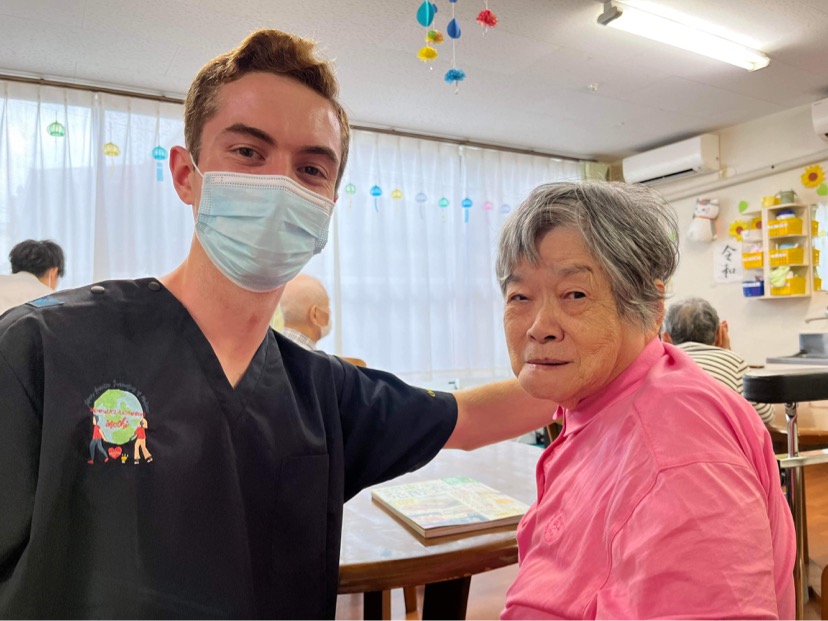 After specific issues faced by those living with dementia and their caregivers were identified, the last 3 days in Japan were spent ideating solutions. In a matter of 24 hours, the 3 teams of 3 students each had a physical prototype built for their medical innovations.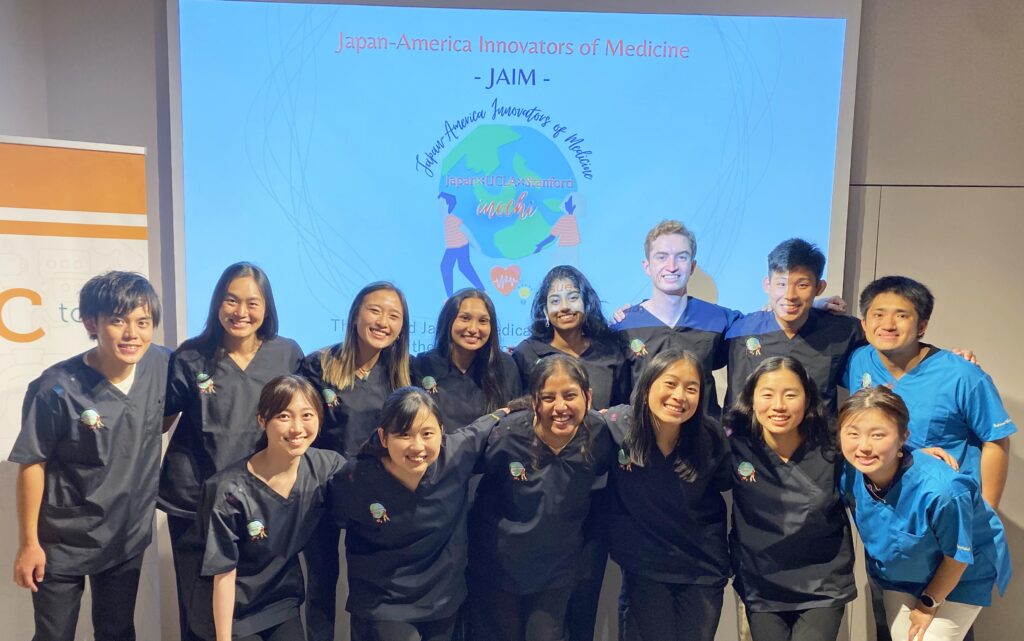 As the participants returned to California, the 3 medical devices solutions were brought back to UCLA and Stanford where the next 3 months were spent being refined and aimed to eventually be launched as products. During this time, JAIM staff and participants have showcased their devices at multiple conferences. Specifically, at the inochi MIRAI Forum held in Osaka, Japan on November 20th, a team of 3 UCLA students with a device to reduce aggressive attacks during sleep for dementia patients was praised by Mr. Yasuhiko Iida, Director of the Consumer Experience Team and Next Generation Customer Strategy of Eli Lilly Japan that their solution is "a potential breakthrough" and that "a collaboration will be desirable." Neha Mukundan, a 2nd-year UCLA student majoring in Psychobiology, is one of the 3 members. She commented that "Presenting at the inochi MIRAI Forum gave my teammates and I valuable insights as to how our produce can best serve the hundreds of millions of dementia patients worldwide. From here, we hope to develop robust prototypes and conduct clinical trials to further the development of our product."
Despite the conclusion of the program, the participants will continue to build their products. They will apply to medical device startup accelerator programs, aim to raise investor funds, and continue the discussion with both Japanese and American stakeholders. The products will continue to be designed and built to meet the needs of patients and caregivers in both Japan and the US, and hopefully will become medical innovations that will positively impact the lives of those living with dementia and their caregivers/family members in both nations. By doing so, JAIM and its participants will aim to solve the issues of a super-ageing society and effectively build a bridge in medicine between Japan and the US.